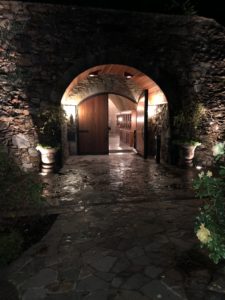 The second day of the 2017 Wine Blogger's Conference was fast-paced and packed with interesting presentations and tastings.  As night fell, we set off on our dinner excursion to Thomas George Estates. Thomas George Estates, located in the Russian River Valley, was established in 2008 and currently consists of four vineyards.  Production is dedicated to creating small lot, vineyard specific wines, with a focus on Chardonnay and Pinot Noir.  All fruit is hand harvested and carefully hand crafted with minimal intervention by the wine maker.
The Russian River Valley is famous for the production of cool climate wines, particularly Chardonnay and Pinot Noir. Proximity to the Pacific Ocean frequently results in dense morning fog that gradually burns off during the day. The area can see temperature differences of 35-40 degrees from daytime highs to nighttime lows (diurnal temperature fluctuation), contributing to a longer and slower ripening process that is optimal for Chardonnay and Pinot Noir.  Other key factors that influence the area are its volcanic soils and winter rains that provide essential irrigation.
Pinot Noir accounts for approximately 29% of plantings in the Russian River Valley and as much as 19% of all Pinot Noir planted in California.  The older Pinot Noir clones produced elegant, old world style wines that were characterized by vibrant, but paler, color and bright red fruit flavors with earthy undertones.  Although this style has its share of enthusiasts, criticism of the light color drove some winemakers to alter their techniques.  For example, training the grapevines onto trellises enables more sunlight to reach the grapes, resulting in higher sugar content (and higher alcohol) that produces darker and more full-bodied wines.
We drove through the dark countryside, eventually turning up a winding drive, marking our arrival. As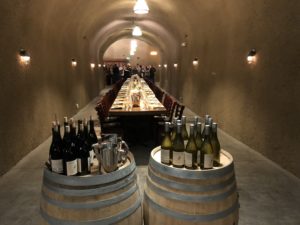 our group disembarked from our bus, we were directed up a pathway to the beautifully lighted entry to the winery, where we were greeted with 2014 Estate Brut Blanc de Blancs, Starr Ridge Vineyard.  The 100% Chardonnay was elegant with fine bubbles and tangy citrus notes. The dining area that had been set for us was breathtaking with its vaulted ceiling and long table.  Following the reception, we were seated and dinner began with a lovely first course of roasted Brussels sprout salad, accompanied by 2015 Chardonnay, Sons and Daughters Ranch.  This unoaked Chardonnay is from the Chalk Hill sub-region of the Russian River Valley and features bright flavors of stone fruit and melon.
The entrée was a duo of pork belly and duck breast served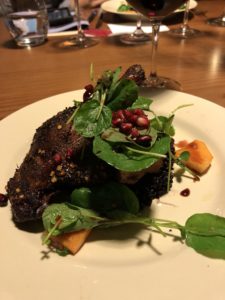 with 2014 Pinot Noir, Baker Ridge Vineyard.  This wine, for me, represented the consummate Russian River Valley Pinot Noir with its bright fruit flavors and complex, lengthy finish.  Dessert was a heavenly quince and apple tart with Bourbon gelato, complemented by 2012 Late Harvest Viognier.
Heartfelt thanks go out to our generous hosts at Thomas George Estates for an extraordinary evening of food, wine, and conversation.
Cheers!