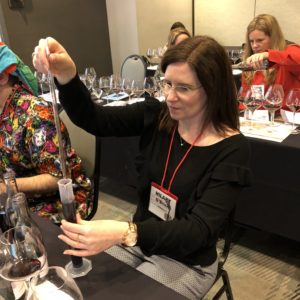 Having attended a wine blending class in Charleston in January 2016, I was eager to try my hand, again. On the first official day of the Wine Bloggers Conference, Hilary and I joined the Rodney Strong team for a Meritage blending class. Meritage can be a red or white wine, crafted solely from two or more specific Bordeaux grape varietals. Our mission that day was to create a red Meritage, using five Rodney Strong red wines, all from the 2013 vintage. These included Cabernet Sauvignon, Merlot, Malbec, Cabernet Franc, and Petit Verdot.
Each table in the room was set up for four participants and our table included Mike, AKA Wine Lunatic, and Thaddeus from The Minority Wine Report. Rodney Strong Director of Wine Education, Rachel Voorhees, presented some information about the history of Meritage and explained how we would proceed with creating our blends. But then – surprise – we found out we had to work as a team! Each team would need to reach consensus on the blend that we would present to the judges for evaluation. But first, we had to come up with a team name, so we combined elements from the names of our blogs and called ourselves "Team Pursuing the Lunatic Report."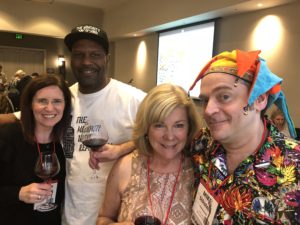 During the class I attended in Charleston, each participant blended alone and there was no judging. Functioning as a team created a dramatically different dynamic as some of us had very different opinions on how to proceed. Initially, each of us started playing with blends, using pipettes and small beakers to experiment. Each wine adds unique characteristics and as each person's palate is different, the blending preferences vary greatly.
The wines with which we were working contributed these qualities:
Cabernet Sauvignon – structure, concentrated flavors, and rich tannins; mature dark fruit flavors
Malbec – acidity and the ability to soften tannins; concentrated berry flavors
Merlot – supple and round with soft tannins and brighter fruit flavors
Cabernet Franc – finesse with earthy and sometimes herbal characteristics
Petit Verdot – deeply colored and highly tannic with flavors that can be on the jammy side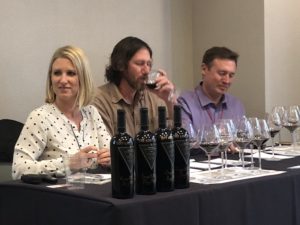 All too soon, it was time to collaborate and reach agreement on the blend our team would present. Thaddeus leaned towards a blend that was heavily based on Cabernet Sauvignon while I greatly preferred a softer blend with larger percentages of Merlot and Malbec. With each of us rapidly revising and tasting the blending percentages, we finally found one upon which we could agree. It contained 40% Cabernet Sauvignon, 15% Merlot, 15% Malbec, 20% Cabernet Franc, and 10% Petit Verdot. Joining Rachel for the evaluation were Rodney Strong winemaker, Greg Morthole and Chris O'Gorman, Director of Communications.
Team Pursuing the Lunatic Report took third place in the competition. Cheers and thanks to Rodney Strong for this fast paced, educational, and hands-on experience!