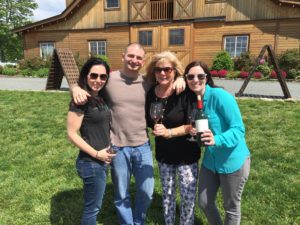 A visit with my daughter in May provided the opportunity for another wine tasting excursion to Loudoun County, just south of Leesburg, VA.  She had visited Stone Tower Winery in the past and highly recommended it for both its gorgeous setting and excellent wines.  The drive was beautiful, through rolling hills, farmland, and eventually, vineyards.  Stone Tower is located on Hogback Mountain, a family owned farm for the past forty years.  Ten years ago, some additional land became available and after its acquisition, the owners realized it might be perfect for growing grapes.  Geologists and viticulturists confirmed that the climate, geography and well drained soils would support a variety of grapes.  Currently, 55 acres are planted with a dozen grape varietals.
At the Harvest Barn Tasting Room, we were welcomed by Jeremy Zimmerman who handles the winery's sales.  Stone Tower features two distinct labels, Stone Tower Winery and Wild Boar Cellars (in a nod to their Hogback Mountain location).  The wines bottled under the Stone Tower Winery label are produced exclusively from grapes that are grown on the property.  Wild Boar wines are made from grapes that are sourced from other renowned regions around the world.  This came as a surprise to me – I had assumed that all of the wines were made from grapes grown on the property.  As Jeremy explained, sourcing from other regions provides creative latitude for the wine makers and also increases overall production.
We found the Stone Tower wines to be the most distinctive, which made perfect sense since the grapes were grown on the property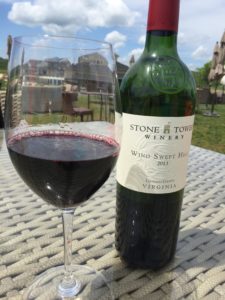 and reflect the distinct terroir. The favorite of our group was the 2013 Wind Swept Hill, a blend of 60% Cabernet Franc and 40% Merlot.  The first impression is a mouthful of blueberries with earthy undertones.  The tannins are soft with just a hint of chocolate.  This is a fairly expensive bottle of wine at over sixty dollars, but worth it.  Just 333 cases of this wine were produced and with proper care, it can age for 15-20 years.  The bottle I purchased will not last that long!
Under the Wild Boar label, I was particularly delighted with the 2015 Sauvignon Blanc.  It is more like a French Sauvignon Blanc (such as Sancerre), wonderfully crisp and bursting with citrus flavors, softened by the scent of vanilla.  It is a perfect summer wine. Other outstanding Wild Boar label wines that we had the pleasure of tasting were the 2014 Pinot Noir, 2014 Sanglier Noble, and 2015 Viognier.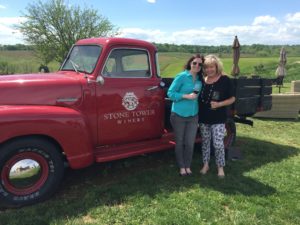 The grounds at Stone Tower are beautiful, offering expansive views in all directions. Comfortable outdoor seating is available and visitors are encouraged to relax with a glass or bottle of their favorite wine. Some food is available for sale or you may bring your own picnic. There are also numerous special events including barrel tastings and classes.
I look forward to returning to this beautiful property and highly recommend that you put Stone Tower Winery at the top of your list when visiting the area.
Cheers!