The 2015 Wine Blogger's Conference began on Wednesday, August 12, with a pre-conference excursion. But first, a little geography lesson:
About two million years ago, the first of a series of glacial flows began advancing and retreating across what is now New York State. The ice gouged out the land, creating deep trenches and steep inclines. Because of the changes in topography, when the glaciers began to melt the water was unable to drain southward and instead filled in the trenches, creating the area known as the Finger Lakes.  Some might think there are five lakes because we have five fingers, but in fact, there are eleven.  The largest and best known are Seneca, Cayuga, Keuka, and Canandaigua.
Native Americans who lived in the area for thousands of years before the arrival of European settlers believed that the Finger Lakes were the fingerprints of the Great Spirit, who reached down and transformed this land into sacred ground blessed by Nature. Which version of the story do you prefer, the scientific or the spiritual?
Our group of 50 enjoyed riding through the beautiful countryside, tasting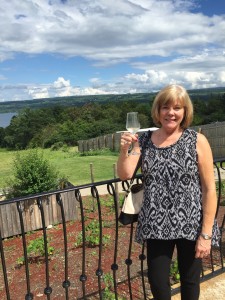 wines as we rode along Lake Seneca to our first destination, Villa Bellangelo. Villa Bellangelo is located on a hillside above the lake and the setting is stunningly beautiful. The operation is owned by the Missick family, who moved from Orange County, CA, to the Finger Lakes because of their love of Riesling and the opportunity they saw in the area. They specialize in Riesling and Cabernet Franc, but produce other varietals including Chardonnay, Gewurtztraminer, and Pinot Noir. They rolled out the red carpet for us with a flight of Reserve Rieslings, a large sampling of other wines, and local cheeses. We didn't want to leave!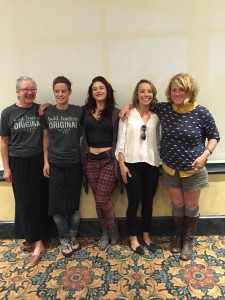 Soon it was time to check into the hotel and prepare for the evening at Ventosa Vineyards. What a treat we were in for!  The evening celebrated Women in Wine, featuring (left to right in photo) Mickey Macinski, owner of Standing Stone Vineyards; Chef Heather Tompkins, who owns a restaurant and wine bar; Elizabeth Leidenfrost, winemaker along with her father at Leidenfrost Vineyards; Erica Paolocelli, partner at Three Brothers Wineries; and Jenna Lavita, the winemaker for Ventosa. A four course dinner was served on the beautiful terrace, overlooking the vineyards and Lake Seneca. Each course was accompanied by dual wine pairings. I loved Heather's Muranda cheese studded risotto cake and of all the fantastic wines, I was particularly impressed with the 2011 Ventosa Cabernet Franc. After dinner we adjourned to the tasting room to experience additional wines, of which my favorite was the Cabaret from Leidenfrost, a port wine made from blended red grapes.
What a fantastic first day in the Finger Lakes!!