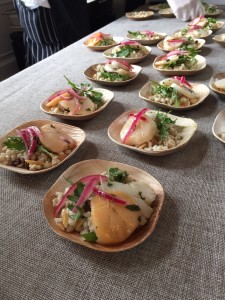 This year I returned to the Passport to Pairings event that I found so enjoyable in 2014.  It was at the Thomas Bennett House, again, and – can you believe it – almost identical weather with overcast skies and a high temperature in the 40's.  Not normal for early spring in Charleston!  The format was different this year in that they did not have a tent and instead placed much of the food and wine in the house.  It was lovely using the house, but the traffic patterns were very congested and one had to exercise patience.
All of the food and wine offerings were excellent.  Among my favorites were the 2013 Pinot Blanc and 2012 Muller Thurgau from Colterenzio, both food friendly whites that paired beautifully with the Scallop Escabeche from Caviar and Bananas.  A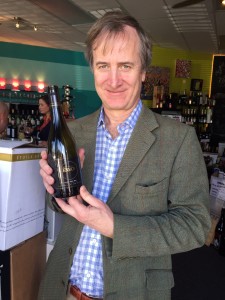 nother standout wine was the Breca Garnacha from Spain.  Rich with dark fruit and undertones of spice, it is reasonably priced at about $12.00.
Later in the weekend, I attended a tasting with Bartholomew Broadbent that was held at Sauer Grapes.  Wines included in the tasting were from South Africa, New Zealand, Australia, Portugal, and Lebanon.  The casual format allowed him to interact with the group and was conducive to questions and discussion.  Two of my favorites were from Portugal, 2013 Casa Ferreirinha Papa Figos and 2012 Quinta do Crasto Superior.  Both wines are blended from several grape varietals including Touriga Nacional and Touriga Franca.  Touriga Nacional is best known as the dominant grape found in Port.  Both of these wines are red fruit dominant; the Papa Figos is more tannic with a nice touch of oak and the Quinta do Crasto's fruit is accented by subtle hints of spice. My other two favorites were the 2014 Badenhorst Secaterus Chenin Blanc from South Africa and the 2012 Elderton Estate Shiraz from Australia.
I am traveling in California and Oregon this last week in March – stay tuned to Pursuing Pinot.
Cheers!