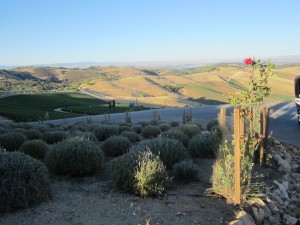 The 2014 Wine Bloggers Conference kicked off July 9 with a pre-conference excursion to Paso Robles, an area I have never had the opportunity to visit. The rolling countryside is absolutely beautiful, planted with vineyards and other crops. Our first stop was a seated seminar hosted by Niner Wine Estates and included Castoro Cellars, Hug Cellars, Giornata Wines, Eberle Winery, and Hope Family Wines.
Paso Robles was established as an appellation in 1983. The climate is ideal for many grapes with a long growing season featuring warm days and very cool nights. The soil is calcareous shale and is very porous, enabling the soil to retain precious water that the vines' long roots are able to access during periods of drought. Paso is known for Zinfandel and Cabernet Sauvignon, but more recently, Rhone varietals are being very successfully planted.
All of the wines we tasted at Niner were excellent but I was particularly impressed with Niner's 2013 Grenache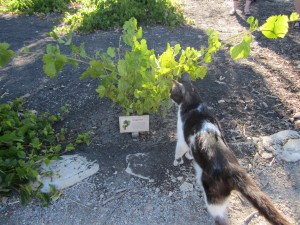 Rose, Hug Cellars' 2011 el Magnifico Zinfandel, and Eberle's 2011 Estate Cabernet Sauvignon. Our next stop was Tablas Creek, where we enjoyed a short, educational walk into the vineyards followed by a walk around tasting at the winery. Four wineries, including Tablas Creek, were featured and most of the wineries showcased their Rhone varietals. My favorite was Calcareous Vineyard's 2011 Tres Violet, a delicious blend of Grenache, Mourvedre, and Syrah.
The final stop of the day was a tasting and dinner at Daou Vineyards. It is situated high on a hilltop with breathtaking views. It was one of the most beautiful venues I have had the pleasure of enjoying – definitely one of those times that you have to pinch yourself to believe you are really there! The Paso Robles CAB (Cabernet and Bordeaux) Collective hosted the tasting with 18 wineries represented.   Eventually sensory overload took over. It is virtually impossible to absorb the number of wines and amount of information we were exposed to over a mere eight hours. And there was more to come with Day Two of our Paso Robles experience.
Cheers – stay tuned, this was just the first day!