For the first couple of weeks after the trip to Italy, I tried to behave myself, conserving calories and dollars.  However, that can last just so long!  My daughter, Hilary, visited me in Charleston the last weekend of October and we had great fun, as always, eating and drinking our way around town.  Among the highlights were lunch at 39 Rue de Jean featuring our favorite mussels in pistou sauce and their special of the day, bouillabaisse.  Bouvet sparkling rosé and one of my favorite French white wines, Picpoul, accompanied the meal.  Another wonderful lunch was enjoyed at Cru Café where the highlights were the featured soups, pumpkin bisque and mushroom bisque.
Our "fancy" dinner out took us to Circa 1886, a restaurant I had not visited for quite some time.  We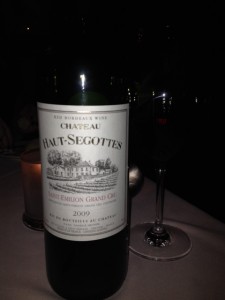 both started with a romaine salad that was nicely presented as sections of small, whole heads, garnished with Gorgonzola cheese, sunflower seeds, and bits of salami.  Hilary selected the sea bass with fennel and caramelized shallot jam and I had duck breast with pomegranate molasses and pear sauce. The wine we chose turned out to be a disappointment.  I thought a Bordeaux would work well with our entrées and after narrowing the selection, chose Château Haut-Segottes 2009 Saint Emilion Grand Cru.  When it was first poured, it seemed like it was going to open up, but instead it went completely flat.  There was little body and no finish at all.  For the price of the wine, I was very disappointed.  The meal was enjoyable and the service was attentive, but we agreed that it had not been a memorable experience.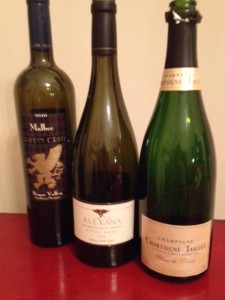 As is often the case, the dinner we prepared at home and the wines we drank surpassed what he had out in restaurants. A lovely bottle of Chartogne Taillet Blanc de Blancs Champagne preceded dinner. Griffin Creek Winery's website provided the inspiration for the entree, pork loin served on grilled pineapple with feta cheese and balsamic sauce.  It was fairly easy to prepare and absolutely wonderful.  Polenta and grilled asparagus completed the plate.  With it, we enjoyed 2008 Alexana Shea Vineyard Pinot Noir and 2010 Griffin Creek Malbec. Hilary made sinful chocolate cupcakes with butter cream frosting.  Yum!  (And I should mention that friends joined us – Hilary and I did not drink three bottles by ourselves.)
I hope you're having a tasty and fun autumn thus far.
Cheers!