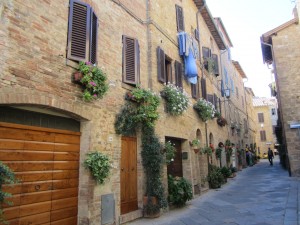 On Monday we made the drive to Pienza, a tiny Renaissance village.  The views out over the rolling hills were spectacular and I wandered the cobbled side streets taking in the charming architecture and browsing in small shops.  From Pienza, we made a stop at a beautiful 12th century Benedictine abbey, Abbazia di Sant'Antimo, with a bucolic setting among olive groves.  Much of the interior stonework is alabaster resulting in a wonderful luminosity.
The next stop was the Barbi vineyards and winery, producers of excellent Brunello di Montalcino, from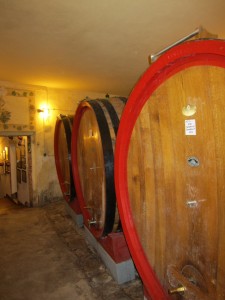 Sangiovese grapes.  The wine is aged in French oak for three to four months and it is then moved into Croatian oak.  The French oak provides sweet, vanilla scented notes while the Croatian oak adds spice and a leathery aroma.  Brunello cannot be sold until it has been in the bottle for at least five years according to regulations developed cooperatively by producers of Brunello.  It is a wine that requires extensive aging – according to our host, Massi, 20 years is ideal.  I purchased a bottle of 2005 – I don't think I will wait until 2025 to drink it!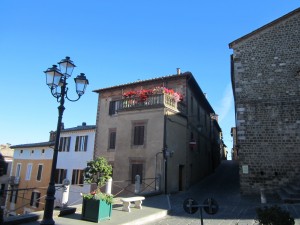 The last stop of the day was the town of Montalcino. Several of us stopped at a leather shop recommended by our guide and host, Natasha, and then enjoyed an espresso or a glass of wine.  After a full day, it was time to head back to the villa for our nightly ritual consisting of lots of local Sangiovese wine and another tasty dinner served in the courtyard.
Salute!