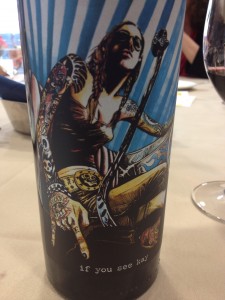 Last month I visited my home town of Cincinnati to visit friends and attend the Western and Southern Tennis Masters tournament. The culinary highlight of the trip was a wine tasting dinner at The Summit, a restaurant operated by the culinary arts program at  Cincinnati State.  The wines were presented by Vintage Point, a distributor with an eclectic collection of brands.  The menu, designed and executed by the culinary arts team, was impressive.  Standout courses included a first course of scallops served with macadamia nuts and mango puree, paired with Makara Sauvignon Blanc, a crisp and classic example of the New Zealand wine with notes of citrus and tropical fruit.
The next course was a lovely sea bass served with grilled fennel, sausage and tomatoes.  Portions were generous, and I was feeling sated, but there was more to come with a Duo of Lamb, the better of which was the loin with pecan crust.  The fun and fascinating wine served with the lamb was an Italian varietal pictured on the left.  A blend of Cabernet Sauvignon, Petit Verdot, and Primitivo, it is a deep red, juicy wine that is both powerful and smooth and paired perfectly with the rich lamb dish.  The playful name – If You See Kay – and the original artwork for the label – were the talk of the event. I was extremely impressed by the work of the students and staff and encourage Cincinnati residents and visitors to dine at The Summit.
Back in Charleston, it is Restaurant Week.  A friend and I visited Eli's Table this week, a restaurant that is best known for its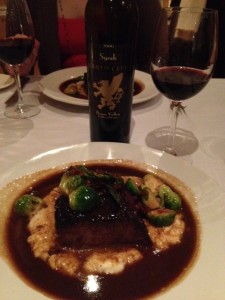 brunch.  We selected Eli's because of its appealing three course menu for the week.  The establishment was willing to allow us to bring a bottle of wine that we thought would work well with most of the entrees being featured.  First course selections included a lovely autumn salad (although autumn has not come to Charleston!) of greens with fennel, apples, and pecans or fried green tomatoes.  My companion and I could not resist the beef short ribs braised in Zinfandel and peppercorns.  Served with grits and bacon glazed brussels sprouts, it was one of the best dishes I have had in some time.  The wine, 2006 Griffin Creek Syrah from the Rogue Valley in Southern Oregon, was a match made in heaven with the short ribs.  Spicy chocolate mousse completed the dinner.  The service was friendly and attentive and I look forward to a return visit.
Next up – I travel to Italy!  Look for posts starting around September 22.
Cheers!