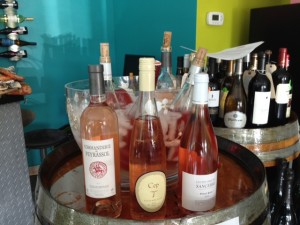 Rosé's are wonderful anytime, but they are especially appealing during the summer as they complement lighter fare and are a great choice as an apértif. Marie Sauer recently hosted a rosé tasting at her Sauer Grapes Wine Lounge.  Six wines were featured including three from France, one from Germany, one from Austria, and one from California's Russian River Valley.  Among my favorites was Commanderie de Peyrassol Côtes de Provences 2012.  The wine is a classic representation of rosé with a lovely, peachy color and fresh fruit flavors.  It is crisp and refreshing yet full-bodied making it an excellent wine to enjoy with a meal.  It is a blend of Cinsault, Grenache, and Syrah grapes.
Perhaps my favorite of the six wines was Lucien Crochet Sancerre Pinot Rosé 2012.  As the name indicates, it is made entirely from Pinot Noir grapes giving the wine both lovely color and wonderful fruit. My awareness of the Sancerre region in France has greatly increased as a result of recent tasting opportunities and I encourage everyone to seek out and sample the fabulous wines of Sancerre. Don't limit your tasting to the white wines that most people think of as "Sancerre."
From the Russian River Valley we tasted Cep Vineyards Hopkins Ranch Rosé 2012.  This is another rosé made from 100% Pinot Noir – there is definitely a trend or two here!  Everyone who reads this blog knows how much I love Pinot Noir in all forms (red, Champagne, rosé).  This wine is dry on the palate with flavors of light red fruit and perhaps a touch of citrus.  I am not sure I would have identified it as 100% Pinot Noir because it doesn't have the depth and fruitiness that I associate with PN, but I liked it very much because it was different from most rosés I have tasted.
On another note, I recently enjoyed a bottle of Sandee Piluso's Fiore Bianco.  A quintessential summer wine, it has just a touch of sweetness with lovely peachy flavors.  When I visited Piluso in August of 2012, during a very uncharacteristic Oregon heat wave, the Fiore was just the ticket – so refreshing.
I hope summer has been fun for everyone.
Cheers!