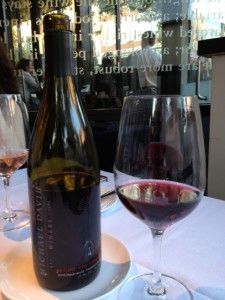 In June I made a short trip to Frederick, MD to visit my daughter and son-in-law.  We had dinner at a favorite spot, The Tasting Room.  Conversation with the sommelier, Jarrett Walsh, led to the decision to "go out on a limb" just a little and try a wine made from 100% Cinsault.  This particular wine is made by Michael David Winery in Lodi, CA, that also produces the well known Seven Deadly Zins Zinfandel.  The Cinsault grape is an ancient variety that is very heat tolerant and is more typically blended with Grenache, Syrah or Mourvedre as in French Southern Rhone wines.  It is also used to make rosé wines.  The Michael David Winery 2010 Cinsault was a gorgeous clear ruby color in the glass with aromas of fresh red berries.  It was smooth and surprisingly full bodied showing a hint of earthiness.  We enjoyed it very much and it will be a varietal I keep in mind.
Returning to Charleston via BWI, I stopped into Vino Volo, a wine bar with locations in a number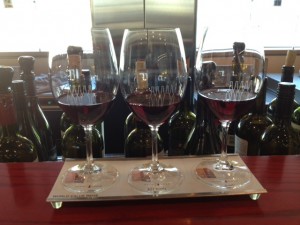 of airports and cities.  What a great concept – a place where you can enjoy a wine flight and a snack while waiting to board or entertaining yourself during a layover. There were many interesting selections, all well described, but I settled on World Value Reds that included a Spanish Garnacha, a Chilean Carménère, and an Argentinian Bordeaux blend.  The Carménère was the most interesting to me because it was described as "Cassis and Green Pepper" and sure enough, you could absolutely taste the green pepper, which I think is a fairly unusual flavor to detect in wine.  All three were excellent and I enjoyed a small portion of smoked salmon rolls with the wine flight.  Keep your eyes open for Vino Volo next time you are traveling and treat yourself to an above average airport food and beverage experience.
Enjoy the rest of summer and stay tuned.
Santé!