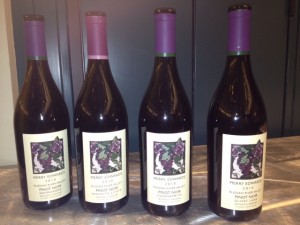 During the 2013 Charleston Wine and Food Festival, I had the distinct pleasure of attending Merry Edwards' Single Vineyard Pinot Noir tasting.  Merry was one of the first women wine makers in CA, beginning her career in the industry in 1974.  In 1997, family and friends joined Merry to found Merry Edwards Winery, with a focus on producing Pinot Noirs with a sense of place from Russian River Valley and Sonoma Coast.  They currently manage five vineyards and maintain collaborative partnerships with others.
Merry presented six single vineyard Pinot Noirs, all from the 2010 vintage, and they were truly exquisite.  I have favored Russian River Pinot Noir over the years, but I am not sure that I have had any of this caliber.  All six were so wonderful it was difficult to decide on my order of preference.  The first wine we tasted stood out, the Georganne, which is their newest vineyard.  It was a deep ruby in color with a rich aroma of chocolate and oak and flavors of black cherry and currants.  This is a big Pinot with noticeable tannins – I would love to taste this wine, again, in two or three years, but it may not come into its prime for six years or longer.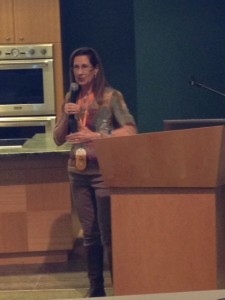 Another absolute knock-out was the Klopp Ranch.  My initial thoughts centered around the intense aromas of cherry and black raspberry layered with tones of vanilla and the wine's incredible body.  What an amazing mouth feel – smooth, supple, rich, but also a superb wine for food pairing.  The 2010 vintage was one of low grape yield which was good for the quality of the wines, but perhaps not so much for the quantity produced.
Olivet Lane vineyard produced larger grapes and larger clusters that produced a more elegant, "old world" style wine.  It was a gorgeous deep garnet in color with aromas and flavors dominated by cherry.  Similar to the Klopp Ranch, the feel of the wine on the palate was sublime – satiny and rich. Another great food wine, this would pair well with duck.  As a side note, "old world" versus "new world" style typically references European wines versus newer wines such as those from the United States, Australia, and South America.  Old world wines tend to be less fruit forward, elegant, and very food friendly.  New world wines are sometimes big, fruit forward wines that dominate everything else.  They can be delicious to drink on their own and are sometimes hard to pair because of how bold they are. Think of wines described as "fruit bombs" – those are new world in style.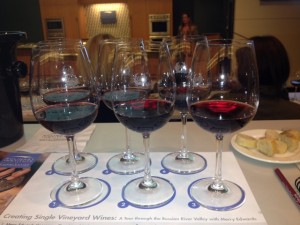 Merry Edwards wines are special wines, indeed.  Some will be found in wine stores and in other cases, it might be best to purchase directly through the winery.  Winery prices range from the mid-$50's to mid $60's for available vintages in standard size bottles.  I highly recommend these wines and Merry is a tribute to the art and science of wine making.
Cheers!