On Sunday, I packed up and headed south, back to Willamette Valley.  I checked into Ken Wright's Winery Lofts, feeling like I had "come home."  Carlton's Walk in the Park was in progress, so I caught the trolley to the park.  It is an annual festival to benefit local charities and includes wineries, food, art, and music.  The wineries included several that had participated in the Wine Bloggers Conference (Belle Pente, Anne Amie, Elk Cove). Wineries new to me included Carlton Cellars, whose 2009 Cape Lookout Estate Pinot Noir was fantastic, and Mouvance Winery whose 2009 Donna Jean Pinot Noir (with production of just 80 cases!) was impressive.
After a quiet Sunday evening and good night's sleep, it was time to start adventuring, again.  My first stop was The Carlton Winemakers Studio that acts as the tasting room for several local wineries.  I had the good fortune to engage in an impromptu conversation with Robert Brittan, the owner and wine maker for Brittan Vineyards.  He grew up in CA and worked for Stags Leap for a number of years before moving to Oregon and purchasing vineyards.  Although my words aren't as elegant as Robert Parker's, my palate was in complete agreement noting that the 2009 Basalt Block Pinot Noir "balances dark fruit with vibrant acidity making for an elegant, beautifully balanced wine." Also worth noting was 2008 Dukes "Alyssa" Pinot Noir, an earthy Pinot with dominant flavors of dark cherry and spice.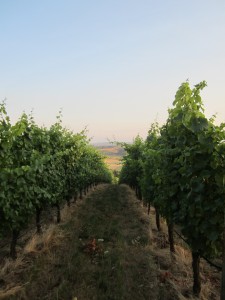 From the Studio, I moved on to Dundee in search of lunch and the Ponzi Tasting Room.  We had tasted the Ponzi 2011 Pinot Gris during one of the "speed tasting" sessions and I knew I wanted to purchase some.  Jillian Glazer was presiding over the tasting room and encouraged me to do a side by side tasting of the Pinot Gris and the 2011 Pinot Blanc.  The wines are equally good in different ways – the Pinot Gris is lovely alone and makes a perfect apéritif wine.  The Pinot Blanc would be wonderful with fish, chicken, or pasta in a white or olive oil based sauce.  Jillian introduced me to a winery and wine maker I had never heard of, Arterberry Maresh.  The 2009 Pinot Noir was stunning and I had to purchase a bottle.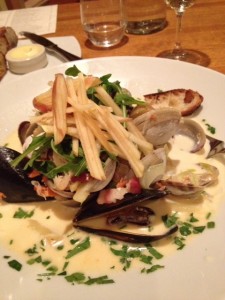 That evening, I returned to Dundee for dinner at The Dundee Bistro.  Scookum Bay oysters were on the menu with the best mignonette sauce I have ever had with apples and shallots.  For the main course, I selected their seasonal special, Manilla Clam Chowder with Mussels and Smoked Salmon in a creamy sauce with apples and bacon.  Delicious!  My experience was enhanced by a delightful conversation with a local couple, Don and Tricia, who said they dine at the Bistro regularly on Mondays.
Here's to Oregon – beautiful scenery, some of the best wines in the world, and friendly people!
Cheers!