Friday got off to a fast start with an Argentine Food and Wine pairing brunch at 10:00 a.m. I wasn't hungry and I wasn't ready to drink, but neither of those factors were relevant. My favorite pairing was a Beef Empanada with Raisin Balsamic, Kalamata Olives, and Red Pepper Puree with Bodega Catena Zapata Alta Malbec 2009. The spice and sweetness was perfect with this big juicy Malbec.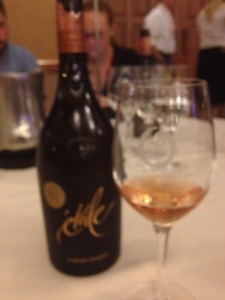 Off to the official Conference Opening and Keynote speech by Randall Graham, founder of Bonny Doon Wines and a prolific author. Immediately following Randall's speech, we had our first round of speed tasting which was ten 5-minute sessions with a winery representative and the wine they have chosen for the tasting. My table began with Chandon's étoile Rosé which set the bar very high! Fast and furious, we listened, swirled, tasted, spit and captured as much information as possible. Many participants Tweeted their impressions throughout the session.
At 2:30 we departed for winery visits that included dinner. There were 8 buses and we didn't know where any of them were going. The group of us who went on the Salem pre-conference excursion were told not to get on bus 2 or 3, so we selected bus 5. As the bus started to roll we learned we were going to WillaKenzie Estates in the Dundee Hills. In addition to WillaKenzie, host wineries included Penner-Ash, Elk Cove, Solena, and Belle Pente.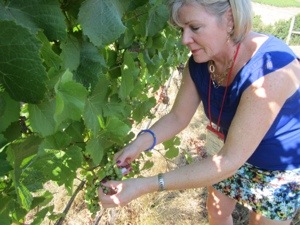 Upon arrival, we spent some time in one of the vineyards learning to prune "wings" from clusters of grapes and then we had a lesson on soil types.
A 2010 Pinot Noir tasting followed with wines from each winery and detailed presentations from each wine maker. After the tasting we began our hike to dinner which was to be staged at the highest point in the vineyard. This was a day of record heat in Oregon with temperatures in the upper 90's. Lorie, Mary, and I equipped ourselves with umbrellas in an effort to fend off the fierce afternoon sun as we made our way to the top, stopping at stations along the way for a cool sip of Pinot Gris and canapes.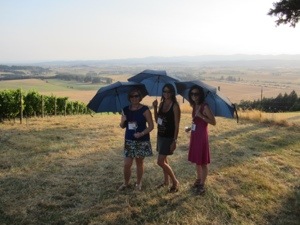 After dinner of lamb and roasted vegetables with a wonderful assortment of wines, we accepted the offer of a ride back down the hill where we boarded our bus and returned to the hotel. Parties were in progress including the Night of Many Bottles and a Bubbles Party featuring Mumm and Perrier-Jouët Champagnes. What a day!
Cheers!