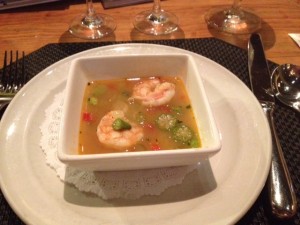 Slightly North of Broad (locally and fondly known as "SNOB") is offering a new Chef's Table Dinner on Sunday evenings.  There are two seatings, one at 5:30 p.m. and one at 8:00 p.m.  My daughter, Hilary, and I occupied two of the six seats at the chef's table overlooking the kitchen and were joined by two couples who were visiting from North Carolina.  The two of us elected to include the optional wine pairings with our dinners.  An "amuse bouche" (small offering from the kitchen to begin a meal) of house smoked salmon began our six course, six wine dinner.
One of the outstanding selections was the Tomato Butterbean Soup.  It was a savory shrimp stock with plump local shrimp, fresh okra and butterbeans, accented with house made hot sauce.  The soup was perfectly paired with 2009 Conn Valley "Prologue" Chardonnay.  Perhaps our favorite course was the Grilled House Sausage served with Charleston Gold Rice.  The sausage was a Kielbasa flavored with garlic and marjoram and the wine pairing was one of my favorites, 2009 MacMurray Ranch Sonoma Coast Pinot Noir.
Chef Russ Moore presented each dish, providing information about the ingredients and preparations.  While still directing the busy kitchen that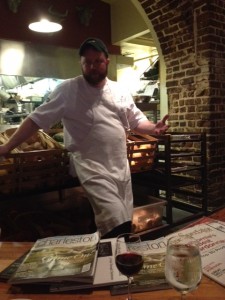 was preparing food for a full main dining room, Russ was generous with his time and willing to answer our questions.  The wine pairings were artfully designed by Stacey Walsh, Beverage Manager, who presented the wine for each course, explaining how it would complement the dish, and addressing questions.  Of the many wonderful wines, my favorite was the 2006 Chateau St. Julian.  This glorious French Bordeaux was presented with Carolina Ribeye steak that was so tender it seemed to melt in the mouth.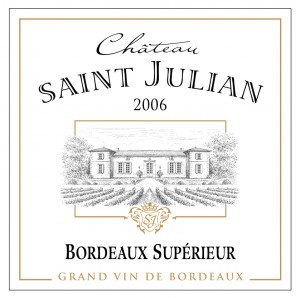 This is the way to dine!  Six perfectly sized portions, six small glasses of impeccably paired wines.  The food, locally sourced and artfully presented, was a non-stop adventure for the palate.  The majority of us diners finished every morsel, although Hilary and I were slowing down by dessert.  In addition, the Chef's Table is an incredible value at $40 for the food, $55 including the wine pairings.
Whether you live in Charleston or are planning to visit, take advantage of this extraordinary dining experience.
Bon Appétit!