One of my favorite new wine shops/wine bars in the Los Angeles area is Stanley's Wet Goods in Culver City.  Last week, I attended a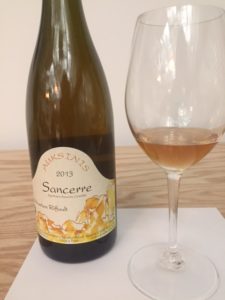 class on the topic of Natural Wine. There is much disagreement about what constitutes "natural " wine, but in general, the following characteristics apply:
– Grapes grown using sustainable, organic, or biodynamic techniques (see my post from February 2016)
– Farmed and harvested using little or no machinery
– Fermented using only native yeasts
– No over-manipulation during wine making, no additives other than light sulfur, no enzymes
– Light to no filtration and no fining (fining is used to soften tannins or clarify a wine by using additives)
– Judicious or no use of new oak barrels
Natural wines can be clean, bright and delightful or funky, feral and challenging. We got to taste both and some of them had me asking myself, "Why do wineries even produce wines like these?"
Two of the wines we tasted were from Onward Wines' winemaker, Faith Armstrong Foster.  Both were 100% Malvasia Bianca, one still and one Pétillant Naturel, or Pét-Nat.  The still version, 2015 skin fermented, was a beautiful straw color that was just bursting with apricot flavors.  The 2016 Pétillant was very pale in color and featured fine carbonation and light floral tones. The Pét-Nat term is new to me and it pertains to a technique called "méthode ancestrale" in which fermentation finishes in the bottle, capped with a metal cap like those used on beer bottles.  The result is a gently carbonated, easy to drink bubbly wine.
Between the Malvasias, we tasted a 2013 Sancerre from Etienne et Sébastien Riffault (shown in photo above).  As soon as I saw the color, I was concerned.  No Sancerre I have ever consumed looked like apple juice!  I wish I could have tasted this wine without seeing it because the color influenced me to such a degree. It grew on me over time and pairing it with one of the rich cheeses on our table greatly enhanced it.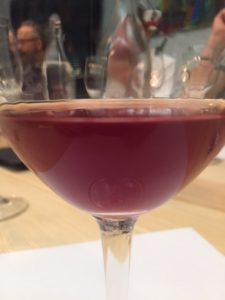 Next was 2015 Bichi La Santa Tecate, a Mexican wine made from Moscatel Negro grapes that are most often grown in Spain.  I tried to capture the appearance of the wine, but the photo doesn't do it justice.  It was a light, opaque red – sort or rhubarb colored.  There were unfamiliar notes in the nose that our instructor explained were due to the presence of Brettanomyces, a certain type of yeast frequently found in wineries.  At its worst, the "Brett" yeast produces aromas that smell like Band-aids (yes, really!) or barnyard.  I could faintly detect the Band-aid smell.  Otherwise, I found the wine sour and very unappealing.
The tasting concluded with 2014 Les Lunes Wine, a Cabernet Sauvignon-Merlot blend from Coplan Vineyards located in the Carneros AVA in Sonoma, CA.  Carneros has a cooler climate that allows for slower ripening.  This wine showed the balance, crisp acidity, and dark fruit that the winemakers are known for.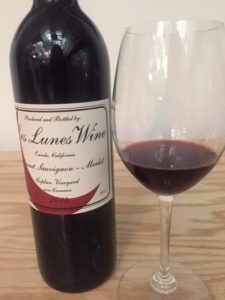 This was one of the most interesting classes I have ever attended because of the tasting challenges presented.  I learned a great deal and, with caution, will be open to further exploring the world of natural wine.
Cheers!