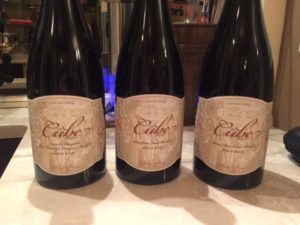 The Cube Project was conceived in 2010 by winemaker Thomas Houseman of Anne Amie Vineyards in Carlton, Oregon, Andrew Brooks of Bouchaine in Napa's Carneros region, and Leslie Mead Renaud from Lincourt Vineyards in Solvang, California.
Each participant chose a single block of Pommard Pinot Noir (Pommard was chosen in order to help control variables between the sites) and sent the other two project colleagues the same uniform grapes to turn into wine. The wines were produced and bottled at each winery with the plan to taste them over the years with consumers and industry professionals in an effort to answer the question: Does terroir show through, and to what degree does the winemaking influence the wine? The project ran for three vintages, 2010 through 2012, hence the name "Cube" for three to the third power: 3³.
During 2015, I acquired the 2010 trio produced at Anne Amie Vineyards and wanted to stage a wine tasting dinner. I assembled a group, planned the dinner and rented wine glasses so each guest had three identical glasses (I definitely don't have 24 Pinot Noir glasses!). I marked each glass with an identifying ribbon to prevent any confusion over which wine was which.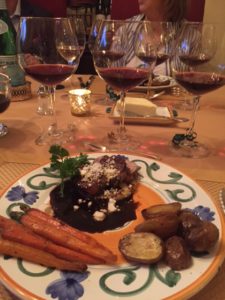 The dinner entree was pork tenderloin with grilled pineapple, feta cheese, and a killer balsamic sauce (recipe at the end of this post).  Roasted vegetables made up the side dishes. Each wine was poured and we proceeded to taste with dinner. These were the observations:
The Anne Amie wine, produced from grapes which tend to have lower sugar and higher acidity due to the region's cooler climate, was old world in style, food friendly, and our group's favorite.
The Lincourt wine possessed great elegance and balance, round and smooth with wonderful mouth feel.
The Bouchaine wine had a bit more tannin than I prefer in a Pinot Noir. We perceived it to have a higher alcohol content than the others (it didn't), although it did smooth out during dinner. I chose not to decant the wines and the Bouchaine might have benefited from decanting.
The fact that this project was conceived and carried out by winemakers who specialize in producing Pinot Noir is perhaps no accident. No grape is more susceptible to the influence of terroir, the precise piece of ground where it is grown; the soil, which is a reflection over geologic time of the region's climate; and the winemaker's hand. Both elements, terroir and winemaking, influence the final outcome. Separating and measuring these parameters are not simple tasks. The Cube Project, after three vintages, is still searching for answers.
Perhaps the most important aspect of a wine's quality and overall balance can be attributable to the grapes' ripeness when harvested. Each winemaker in the project had to trust his colleagues' judgment in assessing this single aspect of the grapes he was to receive. Other factors that winemakers can control in the vineyard, such as cropping levels, canopy management, irrigation and soil amendments, were, for all intents and purposes, as equal as could be, given that six tons of grapes from a given block were to be harvested on a given day and evenly divided among the participants. Thus, as far as was humanly possible, every winemaker in The Cube Project experiment started with the same fruit.
However, given the challenges of shipping grapes hundreds of miles by truck, it could be argued that each participant's grapes – while the same to start with at the time of harvest – may have changed after being transported by refrigerated truck for up to 14 hours.
It was a fun and interesting tasting experience and I would like to do similar tastings in the future. The following recipe was developed for Willamette Valley Vineyards and I highly recommend trying it. It takes some time to cook down, but it is worth it!
Cheers!
Balsamic Reduction Sauce
2 cups balsamic vinegar (does not need to be an expensive balsamic, any will do)
1/2 cup chopped yellow onion
2-3 teaspoons whole peppercorns
3 cups chicken broth
3 cups beef broth
1/2 cup butter
Combine the vinegar, onion and peppercorns in a heavy-bottomed pot.  Bring to a boil, reduce to a simmer, and cook until reduced to a syrup (about 1/2 cup). Add the chicken and beef broths, return to a boil, and then simmer until reduced to a sauce consistency.  This takes quite a while and does not need to be closely watched.  Strain the sauce though a wire sieve, pressing down on the solids.  Whisk in the butter, one tablespoon at a time, until all has been incorporated.  Keep warm until ready to serve.