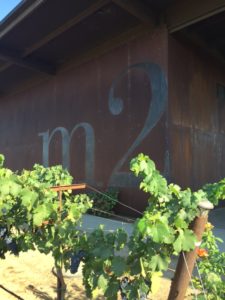 The Friday night wine country excursions are my favorite event during the Wine Blogger's Conference.  You don't know where you are going until you get on the bus and I have never been disappointed.  There was a new twist this year during the opening night reception when we were able to select our excursions via a display of "hints."  After much deliberation, I chose The Wine Abides. What makes my selection funny is that I had never seen The Big Lebowski (which most people couldn't believe) – I just liked the name.  Our host was Layne Montgomery, owner and wine maker at M2 Wines.  My first and lasting impression of Layne is that he is pretty much unfiltered – he calls it like he sees it.
Layne is a member of the Lodi Native™ project, an initiative begun by six winegrowers who shared the same philosophies of protecting ancient vines (some from the 1800's) and using minimal wine making techniques with only native yeasts and no new oak.  The purpose of yeast is to convert sugars to alcohol.  Cultured yeast has been favored because it gives the winemaker greater control.  However, native yeasts, or those found naturally occurring within the vineyards and winery, may contribute to the complexity of the wine and its sense of place or terroir. The project's objective is to showcase the quality and unique characteristics of wines, particularly Zinfandel, from the Lodi AVA.
We started out at about 4:00 p.m. and it was a very hot afternoon in Lodi.  Our first stop was a Zinfandel vineyard planted with 100 year old vines, owned by Kevin Soucie, a fifth generation grower, whose vineyards are part of the Lodi Native project.  After a short walk through the vines, we welcomed the shelter of large trees and were treated to a tasting of  Zinfandels.  Next on the agenda was a roadside stop at Wegat Vineyards, another Lodi Native partner, and another Zindandel tasting.
We moved on to M2 Winery for the remainder of the excursion.  Layne's new winery and tasting room were completed in 2014 and are spectacular.  The structure is contemporary and industrial looking, rising dramatically up out of the vineyards.  We were greeted with a lovely chilled Viognier and then followed Layne for a tour of the winery and barrel room that included some barrel tasting.  Back in the tasting room, an extraordinary experience awaited us.  Kevin Soucie, who joined us for dinner, shared a half bottle of 1945 Zinfandel that his grandfather had made.  The family found some gallon jugs of the wine in a cellar and carefully re-bottled it.  The wine had a deep, tawny hue and a toasty aroma.  Still flavorful, it was more like a port or sherry than Zinfandel.  What a treat – we were all so grateful to Kevin for sharing such a rare find.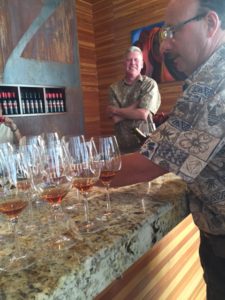 Dinner was a feast that featured dual entrees, first a filet of beef paired with M2's 2013 Duality Red Blend, a robust wine made from Syrah and Petite Sirah.  Pork tenderloin followed, paired with 2013 Petite Sirah.  Dessert was almost too beautiful to eat, an artfully designed plate of chocolate, bleu cheese, almonds, and strawberries.  With dessert we enjoyed a 2014 Select Block Zinfandel, from grapes grown at Soucie, and 2014 Belle Etoile Blanche, Layne's first wine made with grapes purchased from Mokelumne Glen Vineyards.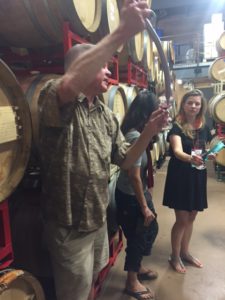 After dinner, we wandered out to the terrace to finish the last of the wine and to watch as the sun set over the vineyards.  It was an extraordinary afternoon and evening thanks to the wonderful hospitality shown us by Layne and Karen Montgomery.
Ready to visit Lodi?
Cheers!