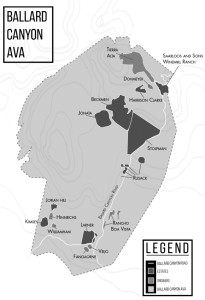 During the 2014 Wine Blogger's Conference, I was introduced to Ballard Canyon and the world class Syrah that is produced there. While traveling in California recently, I wanted to return to the area and have another opportunity to taste the Syrahs. Ballard Canyon is one of the newest and smallest AVAs (American Viticultural Area).  It is made up of 7,700 acres, with only 550 acres planted to vineyards, and was officially recognized as a unique wine growing area in October 2013.  The first vineyard was established in the 1970's, but the area didn't really catch on until the 1990's.  A core group of growers recognized the potential of the area and the quality of the Syrah being produced and worked together to develop the petition to become an AVA.
Ballard Canyon is categorized as a "mixed climate," marked by weather patterns that include fog, wind, sometimes dramatic temperature variations, and influences from the nearby Pacific Ocean.  Syrah was determined to be the best suited varietal for the area and represents over 50% of the planting; remaining acreage is dedicated to other Rhone varietals including Grenache, Viognier, and Rousanne.
Larner was one of the wineries I most wanted to visit as I remembered them from an impressive presentation at the conference.  GPS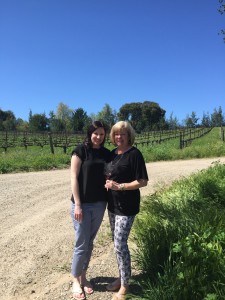 led us to their tasting room in Los Olivos – they do not yet have a tasting room on the vineyard grounds.  Los Olivos was total chaos that day – the town's roads were being repaved so co-owner, Christina Larner, kindly arranged for us to go to the vineyard.  We sat at a picnic table on the beautiful spring day and enjoyed an educational tasting hosted by Emily Dixon, the tasting room manager, and further enhanced by a visit from Michael Larner, the owner and wine maker.
Michael is the co-founder of the Ballard Canyon AVA.  I was interested to learn that he has made the decision to convert the 34 acres of vineyards to organic farming and expects to be Organic Certified in August 2016.  They have been employing sustainable viticulture techniques since 1999, but believe they can successfully convert to a fully organic operation.
Ballard Canyon Syrahs are very deep in color and for me, the dominant characteristic is spiciness that can include cinnamon, clove, and black pepper. Blueberry and blackberry fruit flavors are typical along with hints of dark chocolate or anise.  Depending on the producer, the wine may be barrel aged in a combination of new and neutral French oak or perhaps even concrete.  Ballard Canyon wineries now bottle their estate grown Syrah in custom bottles with 'Ballard County' embossed on them.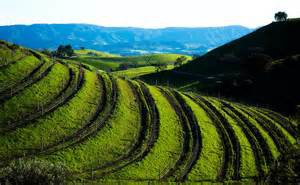 Our second and only other stop in Ballard Canyon was to Rusack. The Rusack property was actually the first Ballard Canyon vineyard and was acquired by the Rusack family in 1992.  The most unique thing we learned about Rusack is that they also own vineyard acreage on Catalina Island off of San Diego. There are six acres planted on Catalina and twenty acres in Ballard Canyon.  The Catalina grape varietals include Chardonnay, Pinot Noir, and Zinfandel.  Approximately fifty percent of the Ballard Canyon property is planted with Syrah, with smaller blocks of other varietals that include Sauvignon Blanc and Zinfandel.
Every time I visit a unique area, I realize how much more there is to learn.  I have tremendous admiration and respect for the grower producers who, through their dedication and creativity, provide us with such amazing wines.
Cheers.