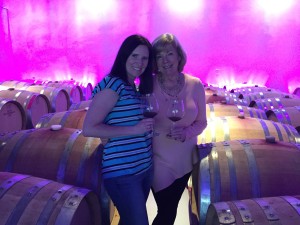 My daughter, Hilary, and I recently returned from a wonderful week in California.  Ever since the 2014 Wine Blogger's Conference, I have been wanting to return to the Central Coast and this trip presented the opportunity.  After meeting in Los Angeles and spending a relaxing evening in Marina del Rey, we headed up the coast.  Our first stop was at Hilliard Bruce, where we were graciously hosted by Kari Ballard.  When I visited in 2014, the winery was still under construction and I couldn't wait to see the finished building.  It is spectacular, featuring a barrel room with dramatic lighting that makes it look more like a dance club.
The first wines poured were a side by side tasting of 2012 and 2013 Chardonnays. The 2012 was aged for one year in oak and then six months in stainless steel while the 2013 spent all 18 months in French oak.  Next we tasted through a collection of Pinot Noirs from 2012 and 2013.  John Hilliard is the winemaker for the Pinots and he whimsically names his various bottlings Earth, Sun, Sky, and Moon.  Each wine manifests different characteristics;  for example, Earth is made from the earliest grapes that are harvested and Sun is made from three Dijon clones, exhibiting lush red fruit flavors.  A special treat was the sampling of 2014 Sun, Sky, and New Moon that were about to be bottled.
San Luis Obispo served as our "home base" for the next three days as we explored the area.  An unexpected discovery was Alapay Cellars in Avila Beach. Scott Remmenga, owner and wine maker, made us feel welcome as he guided us through that day's flight.  We were impressed with all of his wines but the Cinsault was our top pick.  A small producer of approximately 5,000 cases per year, the wines are only available through the tasting room or their wine club.
We dedicated an entire day to Paso Robles, although one could easily spend three or more.  The Paso Robles AVA is best known for Cabernet Sauvignon and Zinfandel, but many other grapes grow well and produce excellent wines. Winding roads through the vineyards reveal one beautiful vista after another.  Most of the day's destinations were to wineries I had visited in 2014, beginning at Daou Vineyards, which is perched atop a hill at 2,200 feet.  The luxuriously appointed tasting room invites guests to linger while the beautiful grounds offer 360 degree views of the surrounding countryside.  Of the wines we tasted, I was most delighted with the 2013 Reserve Seventeen Forty, a Cabernet Franc and Merlot blend and the 2012 Reserve AUX, a blend of Syrah, Grenache and Mourvedre.  Next up was a stop at Brochelle's satellite tasting room as their main location was closed that day.  I love Brochelle's wines; they are refined yet very approachable.  The big win of the tasting was that Hilary, who notoriously dislikes Chardonnay, loved theirs!
Our next stop was Peachy Canyon, a winery I had not visited, but whose wines I had learned about through a local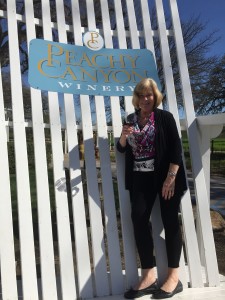 Charleston wine shop.  Housed in an old school building dating back to 1886, it is the antithesis of Daou.  Peachy Canyon is best known for Zinfandel and features single vineyard bottlings from each of its four estates. They produce an impressive array of other wines from which visitors can build a custom tasting flight.  Among our favorites were the 2014 Viognier, aged in concrete, and the 2012 Petite Sirah.
We moved on to J. Dusi,  home of amazing Zinfandels.  Dusi dates back to the 1920's when the Dusi family immigrated from Northern Italy and planted Zinfandel, the Italian varietal of choice at the time.  This particular growing area features the greatest day-to-night temperature variation of any appellation in California, providing ideal conditions for vibrantly flavored yet exceptionally balanced wine.
Our final stop was Niner Wine Estates, another family owned winery with 212 acres of vineyards.  It boasts another of the larger and more dramatic tasting rooms where we shared a tasting flight and then each took a glass outside to soak up the late afternoon sun on the terrace. Heart Hill, at left, is named for the lovely heart-shaped grove of trees that is naturally occurring and has been there for at least 100 years.
If you love wine and have not had the opportunity to visit Paso Robles, add it to your wish list.  You will not be disappointed!
Cheers!