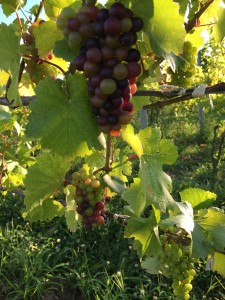 Lots of people are making the effort (and spending the money!) to consume more organic foods. But what about wine? Let's take a look at the various farming techniques and philosophies that include organic, biodynamic, and sustainable viticulture. First, some definitions.
Organic Viticulture
This is defined as grapes grown in accordance with principles of organic farming which typically exclude the use of artificial chemical fertilizers, pesticides, fungicides, and herbicides. To claim that grapes are organically grown in the U.S., the grower must be certified by the USDA's National Organic Program.
Biodynamic Viticulture
The term "biodynamic" came into use in the 1920's and was based on the teachings of the Austrian philosopher Rudolf Steiner. The farming techniques embody the ideal of ever-increasing ecological self-sufficiency but also include ethical-spiritual considerations. This type of viticulture views the farm as a cohesive, interconnected living system.
Sustainable Viticulture
This practice is voluntary and has no single definition or legal requirements. The objective is to create an integrated farming system that does minimal harm to the land, the watershed, and the people involved in growing the grapes.
Three Wine Makers' Perspectives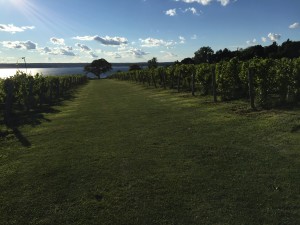 I had the opportunity to interview three winemakers for this article: Jerry Sass of Sass Winery in Salem, OR; Peter Bell of Fox Run Vineyards, located in the Finger Lakes of New York; and Doug Fabbioli of Fabbioli Cellars in Leesburg, VA. Jerry practices organic techniques as much as possible, but is not certified. The certification process is costly and time consuming which prevents many growers from pursuing formal certification. Jerry says the greatest threats to his grapes are powdery mildew and botrytis bunch rot which he attempts to manage with non-chemical treatments and procedures such as de-leafing that enable more air to reach the grapes. Peter agrees that fungal diseases are the biggest threat and Doug stated that there are no organic products at this time that can successfully eradicate these diseases once they take hold. Clearly, the vast majority of grape growers cannot afford to lose a crop.
All three of these winemakers agreed that the theories of biodynamic viticulture are interesting and worth researching, but not something they are likely to implement due to the esoteric nature of the theory and the impracticality of application.
The sustainable approach is embraced by all of the growers I spoke with. Peter Bell states that at Fox Run, they use a workbook that encourages adoption of practices over time, but not all at once. He says, "Right now it is not practical to abandon the use of small amounts of fertilizers (grapes essentially 'mine' potassium from the soil, and it needs to be replaced, for example), but we are adopting less harmful methods of weed control and examining the use of cover crops." At Sass, they exercise awareness of the unique flora and fauna within a particular vineyard in selecting techniques. Jerry says, with a chuckle, that his vineyards may not look very neat to a casual observer because of the tangles of undergrowth beneath the vines, but that it is intentional. Doug Fabbioli says that he and his team "scout their vineyards on an almost daily basis, looking for disease, insects, and growing patterns. Being fully aware of each cultivar's susceptibility to disease, keeping a careful watch on weather patterns, and managing the canopy are all part of sustainable vineyard management."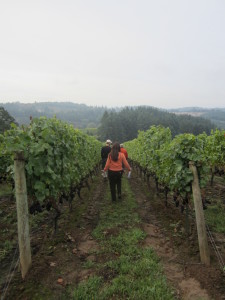 Even if grapes are grown organically, they will not necessarily be made into organic wine. In the United States, the USDA stipulates that organic wine must be made from organic grapes and that sulfites cannot be added to the wine. The selection of organic wine is very small compared to the conventional market and may be more costly. Since it has no added sulfites, which are used strictly as a preservative and in as small amounts as possible, there is a higher chance that you may get some wine that doesn't taste good or may not have good color. As Peter Bell comments, "the big mistake, really, would be thinking that conventionally made wine is full of pesticide residues in the first place, which it's not." Pay attention to who is making the wine.  Smaller producers are likely growing their own grapes in addition to making the wine. Most of these folks are responsible farmers and wine makers who are passionate about their work and want to make the absolute best products.
Live well, drink well.  More to come about the complex subject of sulfites in a future post.
Cheers!