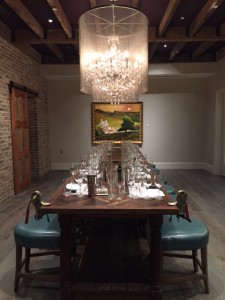 The Grand Bohemian Hotel in Charleston holds red wine blending classes several times each week. Yesterday, on a blustery January Saturday, I attended a class, expertly led by Wine Director and Sommelier Scott Newman. The classes can accommodate up to 12 guests; ours was a group of 7, some locals and some visiting from other states. We were greeted with a delightful glass of Artelatino Cava while Scott explained the format for the class.
The class is modeled after a program offered by Raymond Vineyards in the Napa Valley. Through a relationship between the Grand Bohemian's owners and Raymond, the same wines are used, in this case from the 2014 vintage. We began by tasting through four wines – Cabernet Sauvignon, Merlot, Malbec, and Petite Sirah – discussing color, aromas, flavors, and structure. As with most wine tasting experiences, everyone had a different opinion. I loved the Merlot, with its aroma of vanilla and bright, ripe plum flavor, and the Malbec that was smooth and spicy with good tannic structure.
Next it was time to get to blending! We were to create three unique blends and each of us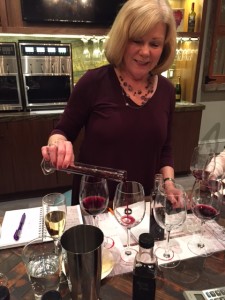 was equipped with a 100 ml beaker, a 10 ml pipette, three fresh glasses, and the four wine varietals. There were no rules and no recommendations, it was up to each of us to create our blends based on our preferences. My first attempt was 40% Merlot, 30% Malbec, 20% Cabernet, and 10% Petite Sirah. It was good, but lacked "oomph" (a technical wine term, wink wink). My second blend was 40% Malbec, 30% Merlot, 20% Petite Sirah, and 10% Cabernet. This one was quite a bit better with more depth, more pronounced aroma, and a longer finish. After creating the first two blends and a brief discussion with Scott, I realized I had selected the exact same percentages for both, just different wines. With that awareness, I made sure to change up the percentages for my third and final blend. It was 30% Cabernet, 30% Merlot, 20% Malbec, and 20% Petite Sirah. This attempt also had good results, but the second blend was my favorite.
Now it was time to have our special blends bottled and labeled. Prior to the class, each participant had the opportunity to select a label format and name for their blend, and to submit custom artwork, if desired. The name of my wine is Catherine's Cuvée and the label features the graphic designed for my blog. Each of our blends was bottled and presented for us to cork. I think of myself as being fairly strong, but I needed Scott's help to secure the cork. After corking, the wines were taken back for labeling and then presented to us.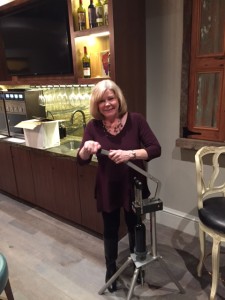 Scott recommended that our special blends be consumed within a year or so.  The reason is because of exposure to air.  In a winery, bottling takes place in an air-tight facility, with bottles filled with argon gas. In the blending room setting, wines are exposed to a good bit of air and therefore aren't stable enough to age indefinitely.
Additional bottles of one's own special blend can be ordered at a reasonable cost (Scott estimates about $40 per bottle). South Carolina's liquor laws require a manufacturing license to bottle wines or spirits and it is not feasible for an operation like the Grand Bohemian to be licensed as such, so additional bottles are blended and shipped by Raymond.
This class was one of the most fun and unique wine experiences I have ever had. Kudos to the Grand Bohemian, Scott, and the fantastic support staff.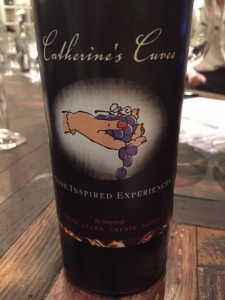 Cheers!