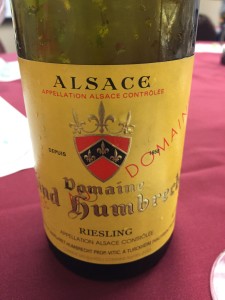 Saturday was the last full day of the conference, another busy day of breakout sessions and tastings.  In addition to immersion in the local region's wines, there are opportunities to attend seminars and receptions hosted by international producers.  A session entitled "The Spectrum of Dry Riesling" was presented by Wines of Alsace.  After three days of learning about and enjoying Rieslings from the Finger Lakes, it was interesting to taste Riesling from Alsace which produces ten percent of the world's Riesling.  Alsace has the most diverse terroir found in France with thirteen soil types and weather patterns influenced by the Vosges mountains.  An interesting tidbit of trivia is that Pinot Noir is the only red grape that is permitted to grow in Alsace.
An afternoon session brought all of us together for the live blogging session featuring rosé and red wines. My favorite rosé from this tasting was from Sheldrake Point, 100% Cabernet Franc, and just bursting with strawberry aromas.  Of the red wines, two Cabernet Francs stood out, the 2011 from Ventosa and the 2012 Reserve from Damiani Wine Cellars.  Only 130 cases of the Damiani were produced and Wine Spectator awarded the wine 90 points.
"Pop-up" tastings take place informally in rooms or suites, hosted by bloggers who have brought wine from their region to share with a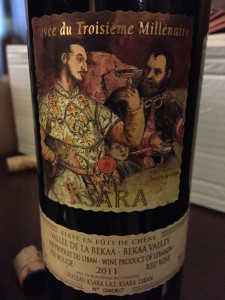 smaller group.  A group from Loudoun County, Virginia, was there – this is the same area where Hilary and I went tasting in June.  The blogger who traveled the furthest to attend the conference was a woman named Maria from Lebanon and she brought with her three bottles of Chateau Ksara, a famous Lebanese producer.  All three were excellent, but the star was the Cuvée du Troisième Millenaire, a big red blend of Cabernet Franc, Petit Verdot, and Syrah.
I may have mentioned this in the past, but in case you wonder how anyone can possibly taste as many wines as we do and not be intoxicated, you spit and/or pour out.  You can get all you need to know just by sniffing and then swirling a wine around in your mouth.  Personally, I like to actually take a sip of each wine.  I may take a second sip of something I find interesting or particularly pleasing, but the rest goes in the dump bucket.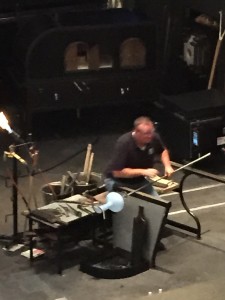 Another special evening was in store for us at the Corning Museum of Glass.  A glass blowing demonstration was followed by dinner and then a dessert reception.  The Saturday dinner includes recognition of wine blog award winners and the announcement of the next year's conference location which, for 2016, is Lodi, California.
I'd like to give a shout out to Zephyr Adventures, the organization that stages this conference.  In addition to their conferences, they also offer wonderful travel opportunities that include adventure travel (walking, biking) and "Taste Vacations."  Check them out!  Also, I wish to thank the Finger Lakes Wine Tourism Marketing Association for all they did to make this conference the extraordinary experience it was.
I hope many of you will have the opportunity to visit this beautiful area and enjoy the wonderful hospitality offered by the wineries and restaurants.  It is high on my list of places to return.
Cheers!