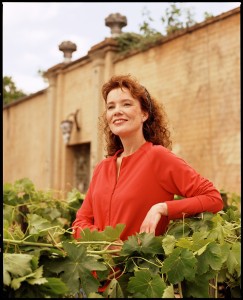 The first full day of the conference opened with an inspiring keynote address from Karen MacNeil, wine expert and writer, who is most well known for her book The Wine Bible. This sentence captures Karen's philosophy: "For Karen, wine is more than a beverage; it's a communal passage into the business of living well." Among the points she made that most resonated for me were: 1) Focus less on what is new and more on what is better; 2)  Say what a wine is, not what it's like – resist comparing; and 3) Make note of anything you find interesting. Even if you can't find an application for the information now, you may at a later time.
"Live Wine Blogging" is a favorite session at every conference. Ten winemakers or their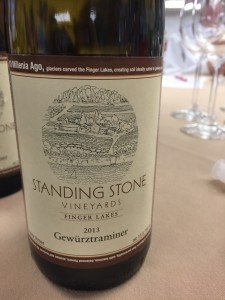 representatives visit each table and have five minutes in which to present the wine they have selected, pour a taste for each table member, and answer questions. Simultaneously, we attempt to record notes and post on Twitter about each wine with the Tweets being projected on screens around the room. White wines are presented at the session on the first day, rosés and reds on the second day. Of the ten wines poured at my table, my favorite was the 2013 Gewurtztraminer from Standing Stone Vineyards.  It's a steal at $14.95 – with its floral nose, full body, and wonderful stone fruit flavors, this wine will pair beautifully with pork dishes, rich cheeses, and charcuterie.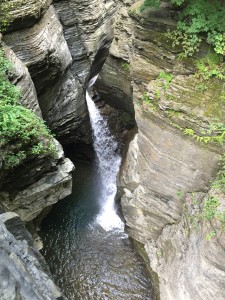 These conferences are jam-packed. There are so many educational sessions, receptions, and informal pop-up tastings, it's virtually impossible to do everything. Following the full afternoon agenda, it was time for one of the most anticipated events of each conference – the mystery dinner excursions. Each attendee boards a bus of their choosing, with no idea of the destination until the bus is underway. Our first stop was not wine related – how wonderful! We went to Watkins Glen State Park for a short, informative walk into the gorge that boasts 19 waterfalls. A return trip to this beautiful park is on my to do list.
Our dinner destination was Chateau Lafayette Reneau, a beautiful winery overlooking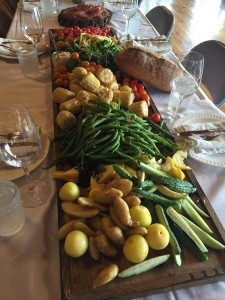 Seneca Lake. Three other wineries, Atwater Vineyards, Fulkerson Winery and Red Newt Cellars provided additional wines and joined us for dinner.  The delicious and artfully presented food was catered by FLX Wienery. Dinner tables were laden with stunning platters of local produce, charcuterie, breads, and condiments. Most of us made a meal out of these items, but steaks, chicken confit, kale salad, and more was to come. Dessert was some of the best ice cream I have tasted which we enjoyed on the deck watching the sunset.
Reluctant to leave, we boarded the bus and headed back to Corning and the after party being hosted for us by the Rockwell Museum. The Rockwell is a collection of diverse American art that includes paintings, pottery, and photography. I thoroughly enjoyed exploring the museum and would like to return someday.
And the evening still wasn't over!  Jordan Winery is an annual sponsor of the conference and they always put on a first class late evening event. I popped in for a little while, sampled a couple of their award winning Cabernet Sauvignons (particularly enjoyed 2006 and 2008) along with some Brix chocolate, and then it was off to bed.
Cheers!