This is a complex subject to condense down to a blog post.  Nevertheless, let's give it a try.
Regardless of the growing region, there are hybrid grapes and Vitis vinifera. Hybrids are crosses between two grape, or vitis, species and Vitis vinifera are crosses between the same grape species. The Concord and Niagara are examples of well known hybrid grapes in New York. Vitis vinifera (the grapes that account for the majority of world wine production) include grapes that originated in Europe, such as Chardonnay, Pinot Noir, Riesling, and many more.
While the first record of wine making in the Finger Lakes was in 1829, commercial wine making there began in 1862. Disease and insects, including phylloxera, and Prohibition took a heavy toll on the new wine industry. Because of the short growing season that includes harsh winters, wine makers had concluded that "Vitis vinifera" varieties could not be cultivated. In 1951, Dr. Konstantin Frank, a Ukrainian immigrant, went to work for the Cornell University Geneva Experiment Station and became convinced that Vitis vinifera could indeed thrive in the area based on his experience in Ukraine. Dr. Frank was the first to successfully grow Riesling, Chardonnay, Pinot Noir, Gewurtztraminer, and Cabernet Sauvignon grafted on to native root stock in the Finger Lakes. His legacy is cherished in New York, as he paved the way for other Finger Lakes producers to grow the European grape varieties.
Our first stop on day two of the pre-conference excursion was Anthony Road Wine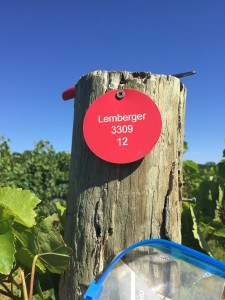 Company.  The owner, John Martini, took us on a short tour of some of the vineyards, discussing grape varietals, growing challenges, and some experimental work they are doing. Following the walk in the vineyard, we toured the winery where one of the Rieslings was being bottled. Wine tasting followed, including side by side tastings of Riesling and Chardonnay made with different methods, traditional and "skin ferment." Skin ferment is pretty much what it sounds like – grapes are crushed and the juice is left on the skins for a period of time. The winemaker tests for color, sugar, and flavor and decides when to press.  This is the first year that Anthony Road has tried this method of fermentation, so it is new ground. I was amazed at how different they tasted and greatly preferred the traditional technique versus the skin ferment, which I found to be acidic and less pleasant on the palate. Among the other wines we tasted, I was especially impressed with the Dry Riesling and the 2014 Unoaked Chardonnay.
The next stop was Fox Run Vineyards where owners Scott and Ruth Osborn welcomed us. We strolled up a gentle incline through vineyards to the winery where Peter Bell, the wine maker, greeted us. Lemberger, also known as Blaufrankisch, is a red grape varietal  that thrives in the Finger Lakes climate. We had the opportunity to taste a single barrel 2014 Lemberger that was still a bit tannic, but its potential was evident. In subsequent tastings throughout the conference, I concluded that my preference is Lemberger blended with Cabernet Franc.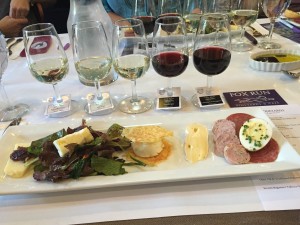 Following the winery visit, we assembled in a beautiful room for lunch and more tasting. Local cheeses, salad, charcuterie, and delicious slices of baguette were artfully paired with Fox Run wines. My favorites were their 2013 Silvan Riesling and the 2012 Cabernet Sauvignon. We were treated to another special side by side tasting of Rieslings from different vineyards, Hanging Delta and Lake Dana. "Hanging Delta" refers to an area formed by an ancient river that deposited a unique type of sediment. Again, it was fascinating to taste the difference. Several of us who were seated together preferred the wines from Hanging Delta – we found them lighter and fresher tasting.
As you can see, we had a jam-packed day of education and tasting. I love learning and meeting the amazing people who grow the grapes and makes the wines!
Cheers!