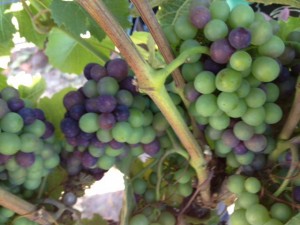 Because of my passion for Oregon Pinot Noir and many friends in that region, I keep an eye on the weather.  During summer visits in 2012 and 2014, I experienced heat waves with temperatures that I didn't think were common in the Northwest. Oregon averages about a dozen days of 90° or higher per year.  However, the past three years have shown a warming trend that is reflected in the wines.
2012 is being lauded as one of the "best ever" vintages for Oregon wines, particularly the Pinot Noirs.  Rain and cooler than average temperatures affected the period when the vines were flowering and "setting their fruit", resulting in a smaller than usual crop.  From then on, warm and dry conditions prevailed, allowing wine makers to produce elegant wines with rich fruit flavors. The Wine Spectator reports that virtually any bottle of 2012 Oregon wine will be worth purchasing.  Outstanding values in the $20-$25 range include Willamette Valley blends from such producers as Ken Wright, Sass, Solena, Ponzi, and Elk Cove.
The summer of 2013 was hot and dry.  But then torrential rains came just as the grapes were ready to be harvested.  My friend and wine maker, Jerry Sass, says that in hindsight, the rain may have helped. "It slowed a headlong rush to harvest and allowed the fruit to gain some complexity and take the "blocky edges" off some potentially very muscular wines. It made every winemaker super careful about the vintage, so they produced better wines. We were all on our best behavior."  I have tasted a few 2013 Pinots thus far and Jerry's Willamette Valley offering is lovely.
On to 2014.  Another hot, hot season with little rain; the warmest year on record for Oregon.  According to Jerry, growers faced many decisions:
"Pick early when the acidity is good and before it gets super-ripe; or pick later when the flavors catch up with the precocious sugars and acidity. Both have negatives, too – you can adjust acidity and lower alcohol in very ripe fruit, but it's hard to add flavor to less-developed fruit. We elected to pick both early and late, and we'll have a lot of blending to do to get into that very nice middle ground where flavors, aromas and structure are all in sync."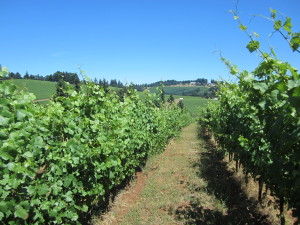 Thus far, 2015 is a repeat of 2014 with a prolonged period of very high temperatures in June, some days even exceeding 100°F.  Temperatures that high can cause vines to shut down temporarily and can disrupt the ripening process.  The heat has caused harvest times to creep forward and Jerry predicts that they will be picking by September 20 this year when the second week in October used to be typical.
Are we seeing climate change or just weather patterns?  It's probably too soon to tell.  However, the talented Oregon grower/wine makers will continue to figure out how to produce world class wines regardless of what Mother Nature dishes up.
I'd love to hear your comments on any Oregon wines you sample.
Cheers!