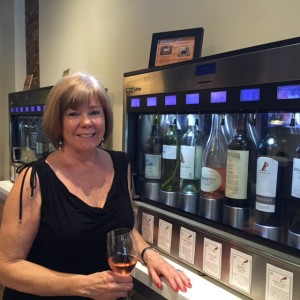 Last week, I spent several delightful days with my daughter in Maryland.  As always, it involved lots of good food and wine!  Of note was our visit to a wonderful wine bar in Frederick called Vini Culture.  They feature three enomatic systems (also known as "cruvinets") that dispense more than two dozen wines.  Customers load money onto a card and then use it to purchase a taste, a half glass, or a full glass of any wines they wish to try.  I was very impressed with their selection that included Stolpman Vineyards Syrah and Tobin James Merlot, wineries that were featured at the 2014 Wine Blogger's Conference. For me, it was like being a kid in a candy store-it was  fortunate that we had limited time!
Hilary and I also visited an outstanding restaurant in Bethesda, Black's Bar and Kitchen.  They are known for seafood and we indulged in oysters, mussels, swordfish and tuna accompanied by Alphonse Mellot Sancerre.  The service was outstanding and I would highly recommend Black's should you be in the Washington D.C. area.
The highlight of the weekend was visiting some of the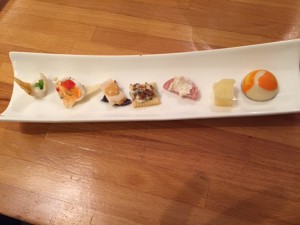 highly regarded Virginia wineries.  We had intended to visit three, but made it to two (it had something to do with purchasing bottles at each winery to enjoy outside after our tasting.)  The first winery was Fabbioli Cellars and they have a fantastic approach to tasting that I have never seen before.  Tastings are done in a seated format with about eight guests per table.  A beautiful tray of tiny "bites" is presented to each person, artfully chosen to pair with each of the wines.  Truly impressive.  I loved their 2013 Chardonnay – crisp and tart – that was paired with a red chili and chive cream cheese on a lime tortilla.  The 2012 Padrino is a full bodied red wine made with primarily Tannat, a grape unfamiliar to me.  It was paired with spinach and artichoke dip with bacon on a cracker, perfect for the smoky undertones of the wine.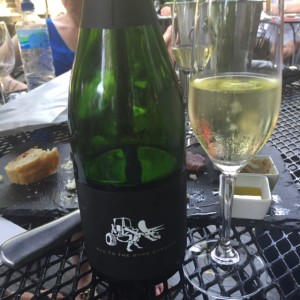 The second stop was Tarara Winery.  It is a larger operation, specializing in single vineyard blends that have received significant accolades.  Tarara boasts a secluded, heavily wooded setting with an elevated patio that makes you feel like you are sitting in a tree house.  After our tasting, we purchased a bottle of their Bad to the Bone Bubbles sparkling along with a lovely cheese and charcuterie tray and enjoyed more of the summer afternoon.
I look forward to visiting more Virginia wineries in the future and highly recommend this area to all of you wine lovers.
Cheers!