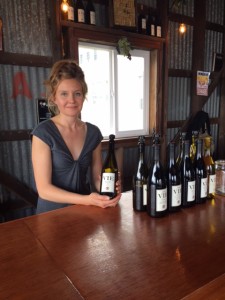 During my travels on the West Coast last month, I was introduced to Treasure Island and the growing collective of urban wineries that have made the island home.  The site of a former U.S. Naval Base, Treasure Island is a man-made isle set between San Francisco and Oakland, accessible from the Bay Bridge.  The first winery began operations in 2007 and there are now nine producers.  Fruit is sourced from around the state and each winery is endeavoring to offer its own unique wines and overall experience.
We visited Vie Winery that specializes in Rhone varietals such as Syrah and Mourvedre and Zinfandels.  Vie takes its name from the ancient French word that originally meant "to invite" or "make occasion for" but that now translates simply as "life". Winemaker and owner, Bryan Kane, is proud of the wines they produce using old world techniques that result in fewer bottles of extremely high quality wine that can be enjoyed now or cellared for years to come.  I was impressed with both the Syrahs from Santa Barbara County grapes and the Zinfandel from Howell Mountain.
The second winery we visited was The Winery SF.  This is an enormous, 20,000 square foot facility that includes event space.  Visitors can view the wine making facility while tasting from the winery's extensive portfolio.  I particularly enjoyed their 2013 Pinot Noir and 2009 Napa Cabernet Sauvignon.
The island wineries feature pet friendly green space,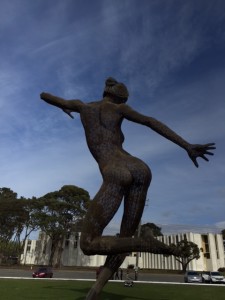 picnic areas, and various spots offering spectacular views of San Francisco and the bay. Among other Treasure Island attractions is the incredible 40 foot statue named Bliss.  She was created by artist Marco Cochran and made of steel rods and balls covered in metal mesh and embedded with over 1,000 LED lights that illuminate the figure at night.
The afternoon on Treasure Island was a delight and I highly recommend a visit should you be in the Bay Area.
Cheers!