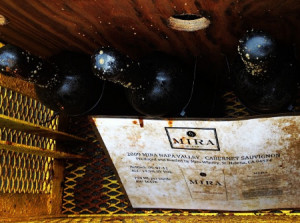 In February of 2013, I posted an article about Mira Winery and its experiment with aging wine in the ocean–which happened to be right here in Charleston Harbor.  Those first cases of Cabernet Sauvignon were retrieved in May 2013 with excellent results.  The wine tasted like it was two years into the aging process, not a mere three months.  A second batch of wine was submerged in the same general area in November 2013, and this time left for six months.  However, when recovered and tasted, the results were quite different.  Owner Jim Dyke and winemaker, Gustavo Gonzales, said that the tannins had not smoothed out and the fruit flavors were still those of a young wine.
Now the two men are trying to get a handle on the effects of light, temperature, pressure, oxygen, time, and motion all of which contribute to the wine's character.  Further experimenting includes aqua aging Chardonnay for the first time and submerging a few bottles of Cabernet without the protective wax coating that seals the corks.  A single case of Cabernet was left for a year–but on the last trip out, the divers were unable to find the cage containing that case.  Although the team knows the approximate location of the cages, wind and currents can make it seem like looking for a needle in a haystack.
Mira has offices in Charleston and is planning to open the Napa Valley Education Center and Tasting Room next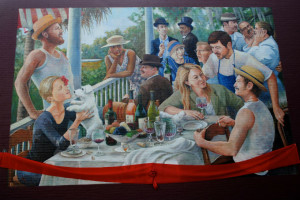 year.  The mural shown at the right was created by David Boatwright and covers one side of the Mira building on Queen Street.  At the unveiling of the mural, Jim Dyke explained that it "celebrates the relationship between food and wine and recognizes some of the people who helped establish Charleston's culinary scene, but it is dedicated to all those who make Charleston a culinary destination. Charleston and Napa Valley are a perfect pairing."
Cheers to ongoing innovation and experimentation!