The centerpiece of Friday's agenda was a summer wine pairing luncheon at one of my favorite Oregon wineries, Winderlea, that is in the heart of the Dundee area.  On the way out of Salem, we stopped at St. Innocent, a winery I have never visited that came highly recommended.  We enjoyed one of the wine flights offered and I particularly liked the 2012 Pinot Gris and the 2012 Zenith Vineyard Pinot Noir.
Upon arrival at Winderlea, we were greeted by Reid Oliver and a glass of 2013 Rosé of Pinot Noir.  Goat cheese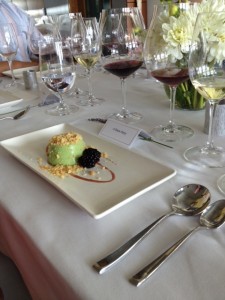 appetizers were passed while we enjoyed the expansive views of the vineyards and surrounding hills – so beautiful!  Soon we were seated for lunch and had the pleasure of Reid's company, as well as one of the owners, Donna Morris.  The first course of tomatoes and tuna crudo was accompanied by 2012 Winderlea Chardonnay.  A delicious agnolotti, which is a pasta dish typical of the Piedmont, followed paired with 2011 Winderlea Vineyard Pinot Noir and then the "pièce de résistance" of the meal, dessert.  It was a basil panna cotta served with blackberries and pine nut crumble that was almost as much of a visual treat as it was gustatory.  Dessert was paired with 2012 Winderlea Maresh Vineyard Pinot Noir, a single vineyard Pinot with a production of just 136 cases.  The wine's bright fruit and herbal tones paired perfectly with the luscious dessert.
We continued our afternoon with a stop at Anne Amie, another vineyard I had not visited.  Anne Amie is one of three wineries involved in the Cube Project in which three wineries, Anne Amie, Bouchaine of Napa, CA, and Lincourt of Sta. Rita Hills, CA, each produce three single vineyard Pinot Noirs for three years (2010-2012) to evaluate the impact of wine making and terroir on the wines.  Please look a the link above for more information about this fascinating project.  I have purchased two of the three wines and need to acquire the Bouchaine.  Some lucky friends and family members will have the opportunity to taste the three wines with me at some point.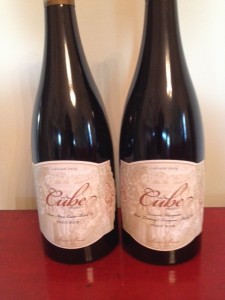 The glorious day in Willamette ended with a quick stop at Ken Wright Cellars.  Unfortunately, I was not able to connect with Ken on this trip, but I got to see Misuzu who was interning with Ken when I first visited in 2011.  She is on an extended stay in the U.S., studying wine making and English.
I can't wait to return to Willamette Valley.
Cheers!