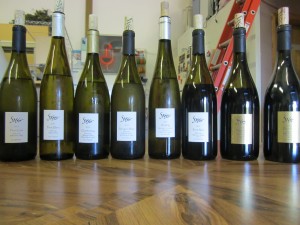 I had the pleasure of meeting Jerry Sass, owner and winemaker for Sass Winery, about two years ago here in Charleston at a wine pairing dinner. When plans for my trip West were firming up, I emailed Jerry and asked it if would be possible to stop by, as he isn't open to the public and I wanted to be sure it wouldn't be an inconvenience. He enthusiastically told me that he would be disappointed if we didn't! After our visit to Willamette Valley Vineyard, GPS faithfully guided us a few short miles and we found the sign for Sass Winery.
Jerry met us and gave us a short tour that included some history of the land that used to be a grass seed farm. There are two separate vineyards, Wild Winds and Walnut Ridge. Wild Winds is on the property we were visiting and is on volcanic soil that produces wines with bright, red berry flavors. Walnut Ridge, a good bit farther south, is on sedimentary soil and produces wines with darker fruit notes and more spice. In total, Sass produces about 4,700 cases per year from six grape varietals.
Next, Jerry escorted us into the winery where his son, Jerry, was finishing up an order. Wasting no time, the private tasting began, starting with the lovely 2013 Pinot Gris. We worked our way through three more white wines and then it was time for Pinot Noir. Jerry bottles two labels, his Willamette Valley blend and Vieux Amis ("old friends"). We tasted the 2012 blend and then the 2009 (one of my favorites) and 2010 Vieux Amis.
From bottles, we moved on to barrels. We got to try both 2012 and 2013 Walnut Ridge, noting the differences between the vintages. Jerry uses mostly neutral oak and introduces 10-20% new oak for additional flavor and structure. He has a small amount of a 2011 blend of Walnut Ridge and Wild Winds that is still in the barrel because he wants to "play with it."  Jerry is a winemaker who believes strongly in letting the grapes work their magic on their own and staying out of the way as much as possible. He practices dry farming and Walnut Ridge is "LIVE" certified (which stands for low input viticulture and enology) and strives to reduce the use of chemicals and pesticides.
It was fun going from the large operation at Willamette Valley Vineyards to the small  family business at Sass. What doesn't change is the passion felt by all involved for the land, the grapes, and the art of great wine making.
Cheers!