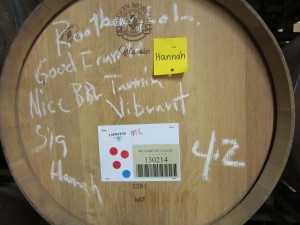 Back to beautiful Oregon for the third time in four years – it is starting to feel like coming home. My friend Carrie, who recently relocated to Portland, and I headed south on July 17 for two days in Willamette Valley. Our first stop was Willamette Valley Vineyards for a private tour and tasting. We loved the comments written in chalk on the 2013 wines that are still in barrel. The yellow note indicates the vineyard, in this case "Hannah," and the number 4.2 is the rating assigned to the wine. Our host, Stephanie Spangler, said that it is supposed to be a four point system, but that wines are often rated higher.
Mid-way through the tour, I asked whether it might be possible to taste some barrel samples as I'd had that opportunity two years ago when visiting WVV with the Wine Bloggers Conference. Stephanie said she would see if anyone was available and returned with the Cellar Master, Brandon Shelby, who was delighted to oblige. The barrel tasting provided a whole new level of education for me as we tasted wines aging in a variety of barrels from new to neutral oak and from specific vineyards as well as blends (neutral oak means a barrel that has been used for three years and no longer imparts flavor from the wood). For example, we tasted the 2013 Tualatin (single vineyard) Pinot Noir both in new and neutral oak. The wine aging in the new oak was distinctly spicier and seemed to have more body. Both were delicious in their respective ways and it will be fun to taste them, again, when they have been bottled.
What may have been the ultimate tasting of the day was the barrel sample of the 2005 Port, made from 100% Pinot
Noir grapes. When Brandon offered it, my initial reaction was to decline because I wasn't sure fortified wine was a good idea after so many other samples – and before lunch! I relented when I realized how special this opportunity truly was.  Deep ruby red with just a tinge of tawny color due to age, it was one of the best ports I have ever tasted.  Incredibly smooth, deep fruit flavors, notes of caramel.  And sadly, not available for sale.
From the barrel room, we returned to daylight and the beautiful tasting room for a light lunch and a few more wine samples before heading on to visit Sass Winery.
Cheers!