Some of my friends and I chose to skip the opening reception Wednesday night and instead had dinner at Mattei's Tavern in Los Olivos.  It is a charming restaurant housed in a building that used to be a stage coach stop dating to 1886. We shared a variety of dishes including grilled avacado, beet and peach salad, grilled wild salmon, corn pudding bruleee, snap peas, and more.  The Director of Operations, Stephane Colling, entertained us with some blind tastings and only Deborah was able to correctly identify the grapes. Guess that doesn't say much for my palate!
Thursday morning the conference started with a Wines of Portugal brunch pairing.  Stations offered small plates paired with a variety of wines.  From there, we headed into the ballroom for the conference welcome and keynote speech by Corbett Barr of Fizzle.co.  Corbett was inspiring, encouraging everyone to overcome their perceived writing roadblocks and to get out there and network.
Then it was time for the first live blogging session with whites and roses.  This is basically speed tasting.  On five minute rotations, a winery representative visits the table, presents a wine, and everyone tastes, comments, and asks questions.  In the meantime, most of us are tweeting with all of the live tweets being projected in real time.  It is totally chaotic and lots of fun.  My sympathies lie with the presenters who have to make themselves heard over the din of 350 people tasting wine and talking.
That evening it was "mystery dinner excursion time" when you board a bus with no idea where you are going.  Although I feel certain that all of the destinations were outstanding, I honestly think we had the luck of visiting the best.  We were taken on a short drive to Hilliard Bruce, a new winery owned by John and Christine Hilliard.  John met us at the end of the driveway and escorted us on a short tour of one of his Pinot Noir vineyards.  Then we continued on up the long, winding driveway to the site of his new winery.  It is spectacular, not quite finished, and John is a little nervous as it must be complete before harvest.
The best was yet to come as we enjoyed a short stroll to the stable house.  There we were greeted with wines from Hilliard Bruce, Pence, and Cebada.  I could go on for pages about the wines – they were among the best we had had the privilege of tasting on this amazing trip.  The Pence 2013 Rose of Pinot Noir was stunning, beautiful pale rose, crisp, with wonderful body from the Pinot grapes.  Christine is the wine maker for the Hilliard Bruce Chardonnays and she favors the French Montrachet style.  Her wine is extraordinary and one I must purchase.  John makes the Pinot Noirs and we sampled three, Earth, Sky, and Sun in ascending order of depth.  Sandra Newman is the owner and wine maker at Cebada (she also grows a large blueberry crop) and her Chardonnay and Pinot Noirs showed tremendous finesse.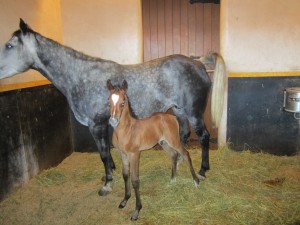 Christine raises and rides horses.  Eight horses were in the stable along with two precious foals, one just 6 days old.  Dinner was provided to us as passed small plates while everyone enjoyed the wines and wandered around the stable admiring the horses.  Too soon, we boarded our bus back to the hotel, but the fun wasn't quite over for the evening.  A number of after parties were scheduled and we attended one at Cold Heaven Winery and dropped by another at the hotel hosted by Jordan.
What a day and evening!
Cheers!