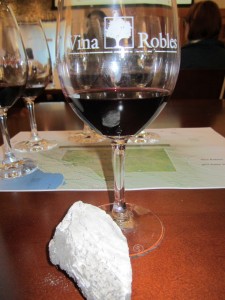 We were off to Vina Robles bright and early for a 10:00 a.m. seated seminar focused on Paso Robles AVA's (American Viticultural Areas).  Paso is the largest non-county AVA in California and is in the process of applying for 11 sub-AVA's. Among the wines tasted was Ancient Peaks Winery's 2011 Oyster Ridge Bordeaux blend, named for the 13 million year old oyster fossil rock on which the vineyard is planted.
Our next stop was Dusi Ranch, the largest Zinfandel vineyard in Paso that was first planted in 1945 by Italian immigrants, the Dusi family.  The ranch sells 90% of its grapes to other wine producers, but retains some that Janell Dusi bottles under her own label.  The vineyard was much different than others I have visited as the land is flat and the vines are head pruned resulting in very compact bushes.  The climate is ideal for growing Zinfandel with the warm to hot days and cooler nights.  I have had some Zinfandels from the area, but found that I was blown away by the depth and quality of the wines we tasted.  Zinfandels are best consumed while fresh, within 2-5 years from release.  They are typically fairly high in alcohol (14-16%) but the wines are smooth, well balanced and very drinkable. All of the wines were fantastic, but Janell's 2012 Dusi Zinfandel, Tobin's 2010 Reserve Zinfandel, and McPrice Meyers' 2012 Pound for Pound were standouts.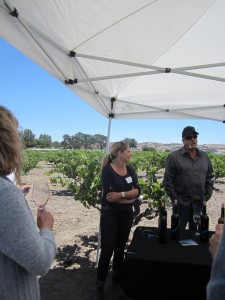 The final stop on our Paso Robles adventure was Wild Horse Winery and Vineyards for a tour and lunch.  Wild Horse was established in 1981 and grows 20 different varietals.  They are known for their Pinot Noir, although the grapes come from Monterrey and Santa Barbara County as the Paso climate is too hot for Pinot.  All of the growers we visited are focused on sustainability issues including water management and practices such as planting cover crops that reduce erosion and provide nutrients.
Before departing for Buellton and the start of the conference, most of us walked over to visit the llama herd.  A large white male named Salvador Dali Llama particularly enjoyed accepting slices of apple offered by mouth as the photo shows!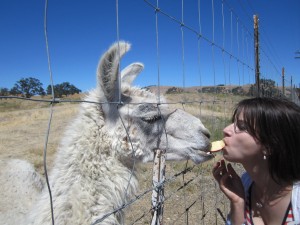 Cheers, everyone.  Go buy some Paso Robles Zinfandel – you will love it!!