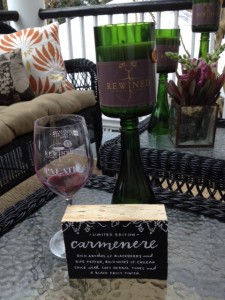 Charleston was buzzing with activity as the 2014 Wine and Food Festival took place.  One of the events I attended was billed as Passport to Pairings, held at the Thomas Bennett House, and sponsored by an innovative company, Rewined, that repurposes used wine bottles into wonderful candles.  Each guest received a candle and mine is Carmenère-scented, one of my favorite grape varietals.
The day was cold and wet, but it did not keep the crowd from thoroughly enjoying the wide array of wines and foods.  One of my favorite food offerings was presented by visiting chef, Charles Phillips, of 1808 Grille in Nashville, TN.  It was a wonderful kale salad with raw tuna and a dressing of peach preserves, rice wine vinegar, olive oil, and a little spike of heat from serracha pepper.  Another notable dish was a pork terrine garnished with candied mustard which is made from dry mustard, sugar, and champagne vinegar that is dried in a slow oven and then crumbled.  It was delicious!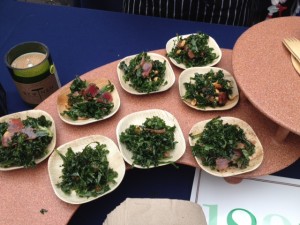 Many excellent wines were being offered.  A favorite was 2013 PlumpJack Reserve Chardonnay from Napa.  It's pricey at $52, but absolutely delicious with loads of apple and pear aroma and flavor, nicely balanced, and not too much oak.  Wonderment Wines presented two impressive 2012 Pinot Noirs, one from the Russian River Valley and one from Carneros. Stephanie Sedmak, the owner and wine maker, makes vineyard specific, food friendly wines that reflect the terroir.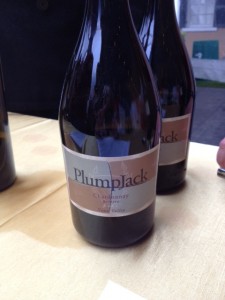 My favorite experience during the event was being reprimanded by Senora Elisabetta Fagiouli, of San Gimignano (one of the towns I visited in Tuscany last fall).  I declined her white wine and she firmly informed me that yes, I would try her white wine (Bianco Toscano) and it was delightful.  For reasons unknown to me – because I know that you never rinse your glass with water while tasting – I took a bottle of water and rinsed my glass.  Senora Fagiouli snatched it away, chastising me, and rinsed it with red wine before pouring me a taste of her Rosso Toscano.  What fun!
Look for more posts, soon, about how we taste wines and some recent foods and wines of note.
Cheers!