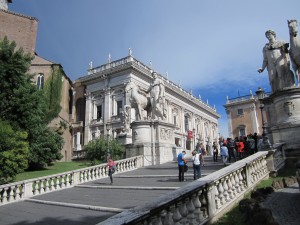 The last day in Rome dawned bright, but soon gave way to rain.  I wasn't about to let the rain stop me, so with umbrella in hand, I set out in the direction of the Trevi Fountain.  The rain got heavier and navigating the narrow streets full of people with umbrellas was hazardous.  I forged on, turning down an even smaller side street until I came to the Trevi.  Although less crowded than usual because of the weather, the view was marred by umbrellas.  After a few minutes, I decided to seek shelter and a cappucino.  Unfortunately, the rain did not abate and it had started to thunder, so at that point, lunch was my best bet.  The little alleyway I was trying to walk down began to look like Charleston in the rain, with a virtual stream running down the middle. After lunch, the rain had slowed enough to leave, but my shoes were so wet, I decided to go back to the hotel to regroup.
As The Weather Channel promised, the rain stopped and the sun came out.  I decided to wander to Monte Capitolino (Capitoline Hill), an area that I don't recall having visited in the past.  The walk took me along the Forum, again overwhelming me with the number of scenic views.  Winding my way upward, I arrived at the central Piazza del Compidoglio that was designed by Michelangelo starting in 1536.  The piazza is ringed with famous museums and contains some impressive sculptures.  At that point, I was ready to call it a day, return to the hotel, and get ready for the evening.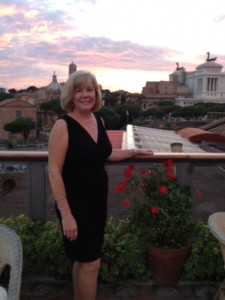 The view from the top of our hotel, Hotel Forum, is irresistible, so I went to the bar for an aperitif before meeting friends from our tour group for dinner.  Sunset is the time to be on the roof and this evening did not disappoint!
Patsy, Scott, and I decided to go to a restaurant that Natasha recommended in the Jewish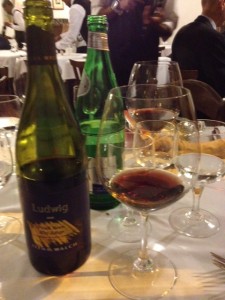 Quarter, known for classic Roman dishes such as artichokes and zucchini blossoms.  We shared both as appetizers; entreés selected included prawns and a fish I was not familiar with that was tasty, but had too many bones.  I acted as sommelier and chose a wonderful 2009 Italian Pinot Noir that was an elegant, silky wine, perfectly suited to the foods.
Then it was back to the hotel to complete my packing in order to be ready to leave far too early the next morning.
Trip Information
This trip was organized and led by Natasha Herron and her husband, Massimiliano Sarrocchi.  For more information about their tours, visit their website, Italy Discovered Tours.  This trip is not for the faint of heart or weak of knees.  The days can be long and the walking, most of it very hilly, is extensive.  One of our group wore a high tech pedometer and reported that we averaged three to six miles per day.  However, you will get an up close and personal view of beautiful towns and villages that are sometimes not included on tours and I can guarantee that you will eat and drink well and make some wonderful new friends.
Salute!