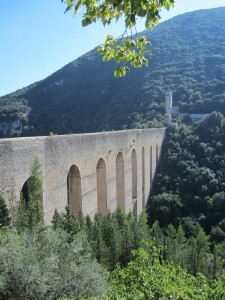 Saturday's day trip was to Spoleto, home of the Spoleto Festival of Two Worlds, conceived by Gian-Carlo Menotti in 1958. Charleston is home to the US version of the famous music festival.
Spoleto is an ancient city built high on a hillside, dating back to 240 B.C.  Today, the city is accessed via a series of escalators that easily take you to the top of the town.  Picture seven or eight escalators the size of the ones in the Atlanta airport.  Spoleto is also famous for the Roman aqueduct that is still perfectly intact.
From the aqueduct, we walked to the magnificent Cathedral of Santa Maria dell'Assunta.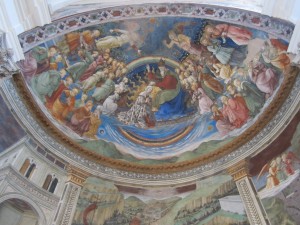 Two side chapels were especially lovely as they were full of natural light and decorated with exquisite paintings.  One visits so many churches, basilicas, and cathedrals while in Europe, but they never cease to amaze from the simplest to the grandest.
Back in Gubbio, we gathered for our final dinner together.  We dined on the covered patio of another charming restaurant, enjoying bruschetta, pasta, and thinly sliced pork with porcini mushroom sauce, all accompanied by a tasty Montepulciano d'Abruzzo.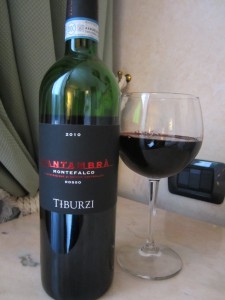 Massi taught me about several Umbrian wines of which I had no prior knowledge.  One is a powerful red wine made from the Sagratino grape and officially recognized by Italy's DOCG in 1992. Another is a white grape called Grechetto that is often blended with Chardonnay.
Sunday we will leave Umbria and drive to Rome.
Salute!