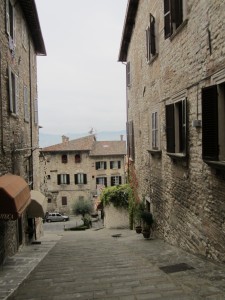 Thursday we said goodbye to the Villa Montecastello and headed east into Umbria and the town of Gubbio that would be our home for the next three nights.  Gubbio is built into a steep hillside and dates to the early 1400's.  We have been staying at Relais Ducale, a charming old hotel that features beautiful patios and gardens.  One of the highlights of the town is the Basilica at the top of Monte Ingino that is accessible via the Funivia, which is like a cable car or ski lift with open cars that hold one or two people.  The view from the Funivia is nothing short of spectacular and the Basilica and museum honoring Gubbio's patron saint, Sant 'Ubaldo, were fascinating.
Most of the group chose to go to Assisi on Friday, but I decided to take the day off and stay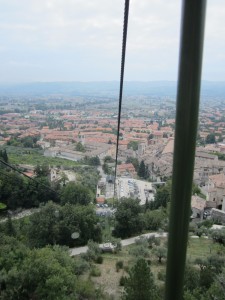 in Gubbio to explore at my leisure.  Taking the Funivia was the first order of the day followed by making my way to the bottom of the town and then working my way back up.  It is so steep, there are even some public elevators to take people to the upper levels.  I had lunch in a nice trattoria and for the first time, there were no English "subtitles" on the menu, so I had to make my way in Italian.  This part of Italy is famous for its sausages and cured meats.  I have consumed more meat and pasta on this trip than I do in six months at home.
That night we went to a trattoria for dinner that features food unique to Umbria.  The first course was sausages served with sauteed spinach. Next came enormous terra cotta platters filled with bowls of bean soup, polenta, a scrambled egg dish, and thinly sliced fried eggplant, from which everyone helped themselves.  As usual, the meal was accompanied by endless pitchers of local wine and mineral water.  We have all found the food to be fairly simple and while very good, we miss having more fresh fruits, vegetables, and fish.  On Saturday, we will visit the city of Spoleto.
Salute.