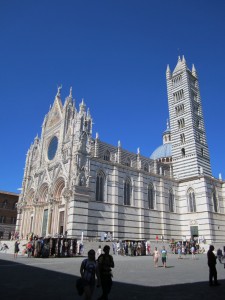 Tuesday's destination was Siena. I had a brief visit there three years ago and was anxious to return.  Siena is built on seven hills and to visit the city requires traversing many steep streets.  It is known for its magnificent black-and-white-striped cathedral and also for the bareback horse race called the Palio, held in July and August, and whose origins date back to medieval times
There is far too much interesting history to recount here, but one interesting fact is that Siena was decimated by the Black Death in 1348.  The city never recovered and therefore was left almost perfectly preserved.  The Campo is the heart and center of Siena.  It is a sloping square lined with restaurants and shops and it is the scene of the Palio.  In addition to its history, Siena features many shops and restaurants.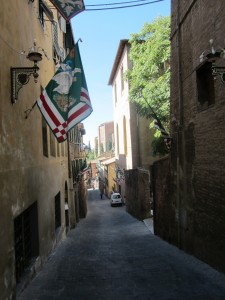 I realize I haven't written much about the food and wine we have been enjoying. Massi, our host and chef extraordinaire, has been cooking wonderful meals based on what he sees at the market each day.  We have enjoyed antipasti that have included prosciutto and melon and Caprese salad followed by a soup and then an entree that has included various delicious pasta dishes, roast chicken, and pizzas fired in the villa's outdoor pizza oven.  One of our group used to own a bakery and Becky commandeered the kitchen a couple of times,  treating us to tiramisu and cheesecake. The wines have been local wines that Massi picks up  at a winery – a white and a nice Sangiovese that we have consumed by the gallon.  Because the wines are so fresh and don't contain preservatives, most of us have been headache-free despite the amount of wine consumed.
On Wednesday, we attempted a visit to Florence, but because of a major bicycle race going through the city, delayed trains, and massive crowds, it was not a good day to be in Florence.  I did get to see Michelangelo's David and that alone was worth the trip.
Next we move into the mountains and our home base for the next three days, Gubbio.
Thank you for following along with me!