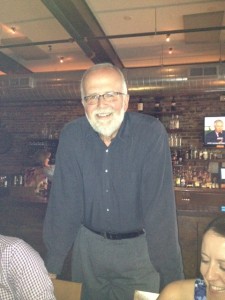 Sass Winery in Salem, Oregon, was founded by wine maker Jerry Sass in 1989 when he purchased 19.4 acres of land and began planting Pinot Noir vines. The production is small, approximately 4,500 cases per year across all of the varietals. Jerry is passionate about the land, the grapes, and the wine making techniques he employs and the results are elegant, complex, and skillfully balanced wines.
Sass has developed a large following with some of Charleston's restaurants and he visited in June to host a wine pairing dinner with Jeremiah Bacon at The Macintosh. The dinner began with Rudderfish Ceviche paired with 2012 Pinot Blanc, a classic, dry Pinot Blanc with good body and a nice minerally finish. The food and wine were delightful together.
Next was grilled grouper with root vegetables, Carolina Gold Rice grits, and an orange vinaigrette.  The dish was paired with two wines, Sass 2012 Pinot Gris and Sass 2012 Walnut Ridge Chardonnay.  The Chardonnay is aged in neutral oak barrels that have been used for approximately eight years (which neutralizes the oak).  Both wines were excellent, but I favored the Chardonnay with its wonderful apple flavors and long finish.  Only 164 cases of the Chardonnay were made.
The entree was Suckling Pig Porchetta. Frankly, I didn't care for the dish which is a rolled and stuffed pork dish of Italian origin.  It may have been too heavy for my taste for early summer in Charleston. We were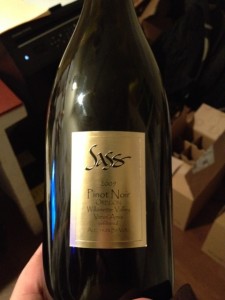 treated to both the 2009 Vieux Amis Pinot Noir (I had the enormous pleasure of tasting the 2005 about a month before) and the 2011 Willamette Valley Pinot Noir.  Our table held a brisk discussion, sometimes bordering on disagreement, over which of the two wines we preferred.  2009 was a warm vintage year in Oregon and I am a fan of the vintage that produced full bodied, fruit forward Pinots.  Employing carefully thought out techniques, Jerry was able to make a wine with complexity and finesse avoiding the "fruit bomb " that describes many other 2009 Oregon Pinot Noirs.  Just 275 cases of the 2009 were produced.
The 2011 vintage year was more difficult with a persistently cloudy summer that delayed ripening and led to the latest harvest in Oregon's history.  The Sass 2011 Willamette Valley Pinot Noir is more Burgundian in style, featuring red fruits with just a touch of earthiness.  It is a wine meant to be enjoyed with food where the 2009's can be delicious all by themselves.
The evening was a truly wonderful experience and thanks go out to Jerry Sass and The Mcintosh for making it possible.
Cheers!