Marie Sauer of Sauer Grapes Wine Lounge hosted a wonderful tasting of French wines last week.  Anyone who knows me or reads my blog knows how fervently I support small grower producers in any region.  The people who grow the grapes and create the wines are passionate about quality and authenticity.  Sophie and Fabrice Laronze are among these select growers, producing their first wines in 2009.  We tasted their Domaine des Terres de Velle Auxey-Duresses Blanc 2009.  This is a classic white Burgundy with well balanced minerality and acidity.  2009 was a nearly perfect growing year in Burgundy and this wine is a lovely expression of white Burgundy, perfect with any fish, shellfish, or chicken in a light wine sauce.  They only produced 50 cases of this extraordinary wine and I can't believe how fortunate we are to be able to purchase some of it in this market.
Next we tasted a wine that I was not at all familiar with called Lirac.  Specifically, Domaine D'Arbousset Lirac 2009. Lirac is a Rhône Valley wine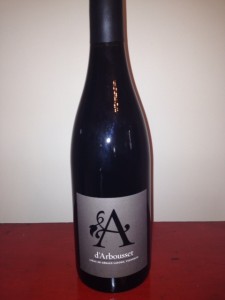 , this one comprised of 98% Grenache and 2% Syrah grapes. The wine maker, Gérald Lafont, is a consultant to many of the better known estates in the Rhône Valley, but he makes a few wines of his own. The wine was a gorgeous deep ruby color with rich aromas of spice and black cherries. On the palate it was rich and round showing loads of complexity.  I loved this wine.  Only 50 cases are imported and, again, we are so fortunate to have access to it.
The last wine was Domaine Durieu Chateauneuf-du-Pape 2009.  Most wine drinkers know of Chateauneuf-du-Pape, one of the most famous wines produced in the Rhône region.  Up to 13 different grape varieties may be incorporated into a Chateauneuf-du-Pape.  This one, made by Vincent Durieu, is 80% Grenache, 12% Mourvedre, and 8% Syrah, the three grape varietals that are preferred by today's Chateauneuf-du-Pape makers. The wine is big and lush with spice and dark fruit. It will hold for at least ten years. This is a perfect example of a wine that I want to drink right away because it is so fabulous now–but really should put away and let it develop for a few years.  Or I should have bought more than one!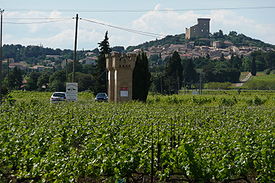 The tasting, conducted by Frederick Corriher of Route des Vins, was educational and included an interesting slate of wines.  The quality, the limited quantities, and the stories behind each bottle made for a very worthwhile evening.
Now I want to go back to France…
Santé!