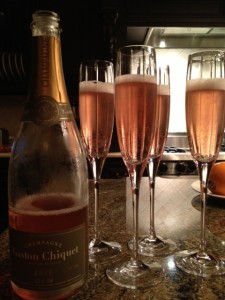 Hello and  Happy 2013. I hope the new year is off to an excellent start. The holidays were fun and wine-filled and several deserve special mention.  Some of our family gathered in Charlotte, NC, to celebrate Christmas and we consumed many bottles of Champagne and Pinot Noir.  Our Christmas Eve selection was Gaston Chiquet Rosé pictured here – gorgeous salmon color, fine bubbles, delicate flavors dominated by wild strawberry.  It was enjoyed by all of us.
Another bottle of particular interest was a 2004 Shea Wine Cellars Estate Pinot Noir.  My brother, Doug, had had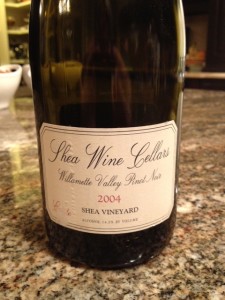 this bottle for awhile and it was good we drank it.  It was silky smooth in the mouth with lovely dark fruit and some floral notes.  We noticed, as we drank it, that once the wine had been exposed to the air for awhile, it started to fade, thus my comment about being glad it was consumed.  Shea is one of the most famous Willamette Valley vineyards and a number of top producers make single vineyard Pinots from Shea grapes.
The night that some friends and I decorated my Christmas tree, we began with one of my favorite Champagnes, Pehu Simonet, that I have written about previously.  Dinner of traditional Boeuf Bourginonne (á la Julia Child) was accompanied by 2009 Thomas Gerrie Pinot Noir. This was a "surprise" bottle chosen for me by the wonderful staff at the Ponzi wine bar in Dundee, OR.  It was a situation where I needed a couple of extra bottles to fill out the case and Andrew chose the Gerrie.  Mr. Gerrie numbers his bottles and ours was number 3,110 of 4,000 produced.  I think it's kind of cool seeing a label that actually specifies the bottle number.  The wine was a lighter style Pinot but it had amazing body.  It struck me as being more old world in style – elegant, food friendly.  At only $25, it was a bargain and I would definitely purchase Gerrie wines in the future.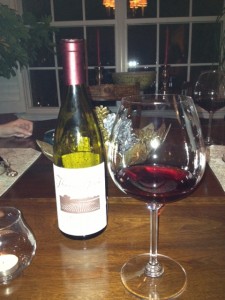 I will be making an effort to post regularly as we move into 2013.  Remember to take an occasional look at Small Sips and Upcoming Events.  Your comments are appreciated.  Thank you for continuing to follow Pursuing Pinot.
Cheers!