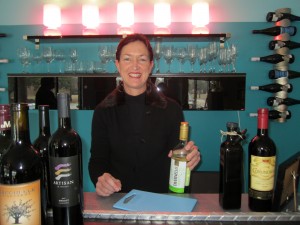 Marie Sauer opened a new wine lounge and retail store on Daniel Island this month.  Its name is a cute play on words – Sauer Grapes.  Open from 3-8 p.m. Wednesday through Saturday, stop in to relax, sample, and browse in the fun, art deco style lounge.  Taste unique wines available by the glass or bottle and take advantage of Marie's extensive wine knowledge.  As just one example, Marie is pouring some of the grower-producer Champagnes I have raved about at very reasonable prices.  You won't find these wines in most shops and to be able to sample by the glass is a truly special opportunity.
In addition to the daily wine selections, small plates are available, provided by Celia's of Charleston.  Marie will be hosting special wine tastings on a regular basis (make it a point to check her website regularly and sign up for her mailing list!) and can host private events in the lounge.  If wine isn't your thing, Marie features several craft beers on a rotating basis.
Another unique feature Marie offer is Wine Evaluation.  A Wine Evaluation with Marie involves tasting several different wines in a private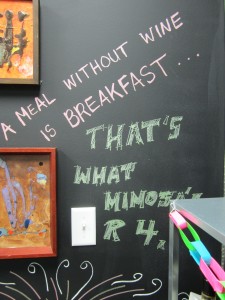 setting —wines  that have been selected for unique characteristics such as acidity, tannins, aromas, food pairings, saltiness, balance and age.  Marie will then provide a written analysis of wines you tend to gravitate toward, where your preferences lie and how these relate to different wine categories, wine areas of origination, and wine styles.  You will learn from and enjoy the evaluation as well as having an ongoing point of reference for purchasing wines for dinners, parties, and everyday enjoyment.  Check her website for more information.
Merry Christmas and Happy 2013!  Drink some good wine during this wonderful holiday season!
Thank you for following my blog.
Cheers!