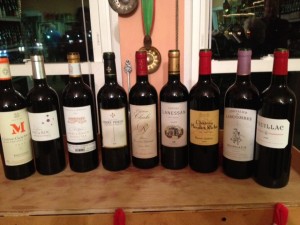 Debbie Marlowe of The Wine Shop of Charleston conducted a fantastic tasting of 2009 Bordeaux at her shop on November 27.  We tasted nine Bordeaux, working in flights of three wines per round.  There are five legal grape varietals that may be included in Bordeaux, which is always a blend of at least two of the five.  They are Cabernet Sauvignon, Merlot, Cabernet Franc, Petit Verdot, and Malbec.
Bordeaux is comprised of 284,000 acres and there are over 9,000 individual Châteaux. The sub-regions of Bordeaux are divided by the rivers Dordogne and Garonne,  producing distinctly different wines with those from the left bank being Cabernet dominant and those from the right bank Merlot dominant.
2009 was an excellent vintage year in Bordeaux featuring rich wines with relatively high alcohol content that will enable the wines to age well.  Debbie believes many of the 2009 Bordeaux will be at their peak in 10-12 years.  She advised always decanting Bordeaux at least an hour ahead of serving time.
My favorite wine in the first flight was Chateau Val de Roc Bordeaux Superieur.  The wine was a deep garnet to almost purple color.  Slightly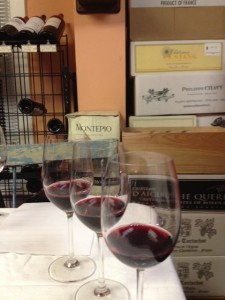 higher acidity was apparent (in a good way) along with firm tannins, both of which will promote extended bottle aging.  It is an excellent value at just $21.00 per bottle.
The wine I liked the best in the second flight was Château Croix Figeac, St, Emilion Grand Cru.  This right bank Château produces a wine made from 80% Merlot and 20% Cabernet Sauvignon.  The Figeac is a robust, full bodied wine with an alcohol content of 14% and somewhat higher acidity.  It is lush with dark fruit flavors and hints of spice.  It was a significant step up price-wise at $42.
The last 3 wines we tasted were magnificent, each one perfect in its own way. I had a slight preference for Chevalier de Lascombes Margaux.  This is a second label of Château Lascombes and therefore cannot carry the "Château" designation on the label.  The wine is an interesting blend of equal parts Merlot and Cabernet Sauvignon finished with 4% Petit Verdot.  The color is a very deep purple with dark fruit, spice, and oak the dominant aromas and flavors.  At nearly $50, it is an investment wine and one that will improve with extended cellaring.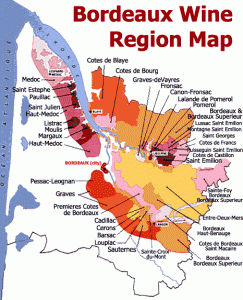 If you are beginning to learn about and explore Bordeaux, start with some wines at approachable prices.  Buy from a reputable wine shop and ask for recommendations in the $15-$20 range as there are many excellent Bordeaux to be tasted in that price range.  Then you can move up as your palate desires and your pocketbook can afford.
Cheers!