Last week was the 2012 Grower Producer Champagne Seminar.  I enjoyed it even more than last year's because my knowledge has increased over the past 12 months.  Also, it was held at an ideal venue, the amphitheater at the Culinary Institute of Charleston.  Harry Root was our Master of Ceremonies, assisted by Marie Sauer.  We tasted 12 Champagnes and enjoyed some lovely appetizers prepared by local chef Celia Cerasoli.
Henri Billiot Brut Réserve was one of my favorites.  Tiny production – just 3,750 cases.  How do these farmers make money?  Harry says a lot of them really don't, although the grapes that they don't want to make into wine themselves is easily sold to the large houses that produce Champagne in bulk. This wine was a 75% Pinot Noir, 25% Chardonnay blend.  You may recall how partial I am to Champagnes that are Pinot Noir dominant.  I have also determined that I prefer a slightly higher sugar content or "dosage".  The first impression was the incredible feel of the wine in the mouth followed by deep fruit flavors and then a creamy, satisfying finish. This is a powerful Champagne that would go well with rich appetizers such as pâté or smoked fish.
The next Champagne that stood out for me was the Villmart & Cie "Grand Cellier" Brut.  I should mention that all but one of the wines we tasted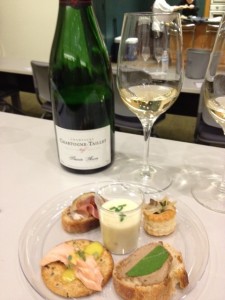 were non-vintage.  The Vilmart is a 70% Chardonnay, 30% Pinot Noir blend, aged in neutral French oak.  I could smell the "woodsiness" when I raised the glass to my nose and it was pleasant as well as distinctive since many of these Champagnes are aged in stainless steel. Because of the higher Chardonnay content, fruit flavors were lighter, somewhat citrusy, and there were lovely floral notes.  This Champagne also ended in a creamy finish.  Pair this with a first course of seafood in a creamy sauce (think Coquilles St. Jacques).
To conclude the tasting, Harry and Marie staged a blind tasting of three Champagnes. We were told what the labels were, but then it was up to us to determine which was which.  The three were Veuve Cliquot (not a grower producer but one of the huge négociants or large Champagne houses that buy up juice and grapes from multiple sources to produce their high end "bulk" Champagnes), Pehu-Simonet "Selection" Brut (a favorite of mine), and Pierre Gimonnet Premier Cru Brut.  I am pleased to report that I guessed all three correctly!  This exercise made me think of the tests sommeliers go through; they would have to identify these wines without the benefit of knowing the labels from which to choose.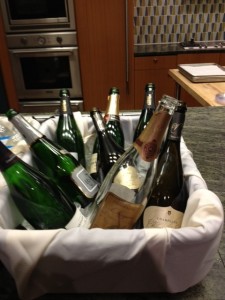 Celia prepared a quintet of delicious appetizers for us including canapés of smoked salmon, fine liver pate, prosciutto and figs, a tiny onion tartlet, and a divine potato soup with truffle oil.  My friend, Susan, and I kept trying to figure out how we could get the rest of the soup out of the little shot glass without being rude – bread did the trick!
This was another fantastic learning and tasting experience. I wish more people knew how wonderful real Champagne is and what a revelation these grower-producer wines are.  These Champagnes are not readily available in wine stores–they are more typically found in fine dining restaurants.  But look around or ask your wine shop owners if they can get them.  The best resource for grower producer Champagne is Michael Skurnik Wines.
Pop a cork!  Santé!