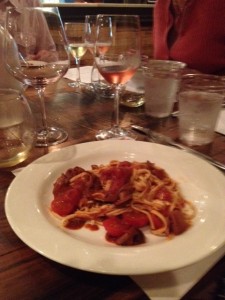 The autumn season is upon us, even though it doesn't feel like it here in Charleston.  We did have a "taste" of fall, but then the humidity set back in.  There have been a number of interesting events over the past few weeks.  One of our new local eateries is called Butcher and Bee and it has a unique format, open for lunch and late night only.  They occasionally open for dinner featuring a guest chef and on September 7, they offered a Southern Italian dinner with wine pairings provided by Marie Sauer and Bob Sabatini.  Our four course dinner, preceded by appetizers in an adjoining incubator for local artists (Tivoli), was complemented by 10 wines.  No worries – the pours were conservative!  Pictured is Linguine con Calamari.  One of the standout wines was the Tenuto Polvaro Nero, a blend of Cabernet Sauvignon, Merlot, Syrah, and Refosco.  I will look forward to future dining opportunities at Butcher and Bee.
Next was An Autumn Affair 2012, the annual fund raiser put on by the Charleston Chapter of Les Dames d'Escoffier.  I wrote about this last year and was very excited about attending this year's event.  Once again, it was staged at Lowndes Grove, a former plantation and current special events venue.  The evening was gorgeous and my friends and I reveled in the beautiful setting on the Ashley River, sampling the array of appetizers and thoughtfully selecting among the more than 100 wines being poured.  There were far too many wines to call out all of my favorites, but a few stood out. The Perrin Vinsobres is a French wine I had never heard of. It is a Syrah and Grenache blend from the Rhone Valley offered at about $22.  I was stunned at the quality of the wine for this price.  It is full of dark fruit and spice, smooth and mouth-filling, but with sturdy structure.  Enjoy this wine with roasted or braised meats or intensely flavored cheeses.  The 2008 Jordan Cabernet Sauvignon was divine.  This is a pricey one at $57, but so worth it.  2008 was a challenging growing year because of frost, but the wine maker at Jordan made a beautiful wine with dominant flavors of dark cherry and plum and silky smooth tannins.  I would also strongly recommend the Jordan sparkling wines labeled as "J".  They are in the $25-$35 range so you can afford to drink them when you want an above average but not super premium bubbly.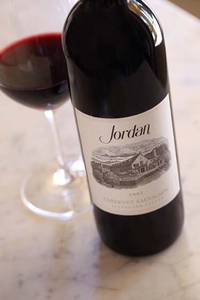 My last thoughts for September are about a unique Champagne that I shared with my friend, Chip.  The Champagne is Jean Milan Grand Reserve 1864, a non-vintage Blanc de Blancs made of juice from 2 vintage years.  It has a unique cord closure instead of a metal cage and you cut the cording with Champagne scissors or a knife.  When poured, the bubbles formed a virtual vortex in the glass.  I don't know when I have seen bubbles like this, but they were short lived.  The wine didn't go flat, but the intense bubbling action dissipated.  For us, the most dominant flavors were of sweet apples and ripe pears.  It is oak aged and you can sense the woodiness, but it is not "oaky".  Those of you who love Champagne and sparkling wines must promise me to go out and experiment.  There are amazing wines to be tasted and, as I have cautioned before, don't wait for a "special occasion"!!
Send me comments about some of the interesting wines you have encountered lately.
Santé!