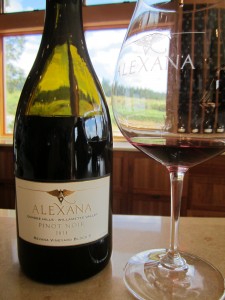 Misuzu, who is a wine distributor from Japan, was interning at Ken Wright Cellars when I visited in 2011. She was back in the U.S. for a combination vacation/business trip and we had the opportunity to go to some wineries together while I was in Oregon.  We share some favorites and our first stop was Alexana where our friend, Christie, was hosting at the tasting room.  Christie shared a tidbit of information that I did not know, that Pinot Noir is the most acidic of all of the red wines and that is one of the reasons that it is so food friendly.  The winery at Alexana is nearly complete and Bryan Weil, formerly of Hogue, will be the winemaker.  I was taken by the beauty and quality of Alexana wines last year and my opinion remains the same.  Of the several wines we tasted, the standout was a special and very small production of 2010 Alexana Block 7 Pinot Noir-Revana Vineyard.  Many of the 2010's I tasted during this trip aren't ready to drink.  The Block 7 is amazing now and will only get better.  It is 100% Pommard clone and shows complex layers of dark fruit and spice with undertones of rose and tobacco.
Our next stop was Torii Mor, a winery that I know of but had never visited.  Their grounds include a charming Japanese garden, shown in the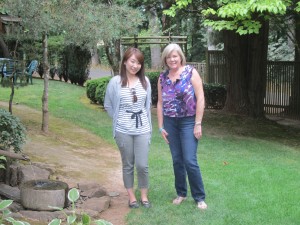 photo here.  The name roughly translates as "beautiful gate to the earth." Their wines are Burgundian in style and the 2009 Olson Pinot Noir was a standout – food friendly and able to cellar for a number of years.  The wine that most surprised me is their incredible Port.  Made from Syrah grapes and fortified with brandy made from their Pinot Noir, and with no preservatives added, the wine is rich and dark, sweet, but with a clean finish.   Highly recommended at $45 per half bottle.
The last stop was Winderlea Vineyard and Winery, another favorite.  The tasting room has a magnificent location, overlooking acres and acres of vineyard.  The 2009 Winderlea Vineyard Pinot Noir was just as wonderful as last year with its red and black fruits and spice notes.  The 2010 Ana Vineyard impressed me as a wine that will mature into something special with its balanced fruit, acidity, and gentle tannins.
My visit to Oregon was capped off by a very special evening with wine maker friends, creating our own pizzas to bake in an outdoor pizza oven and then playing bocce ball.  I leave the state with feelings of immense gratitude for the opportunities afforded me.
Cheers!