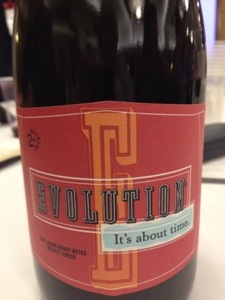 Saturday was a very busy day featuring a diverse array of workshops and sessions. My friends, Mary and Lorie, and I decided to divide and conquer in order to get as much as possible out of the content being offered. My sessions included a blogging workshop that was very helpful and a fascinating session entitled 'The Neuroscience of Wine Tasting' that deserves a post of its own.
In the afternoon, we were treated to a keynote speech by Rex Pickett, author of Sideways and a new novel, Vertical. Rex is at the same time hilarious, cynical, and insightful and kept the room riveted. Immediately following, we had our second round of speed tasting, this time with reds. One of the standouts was Sokol Blosser's Evolution, pictured above. This is a new blend consisting of 12 different grapes. It is a fun wine, big and juicy, with a cool new label design. Also of note was 2009 Tendril White Label Pinot Noir.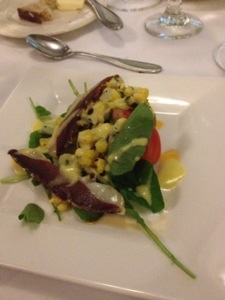 Next on the agenda was the presentation of the Wine Blog Awards followed by a five course wine pairing dinner hosted by King Estate. The first course, pictured here, was a lovely salad of roasted corn, fennel, and duck prosciutto paired with their amazing 2011 Pinot Gris. They brought their executive chef and staff to Portland from Eugene and created a memorable evening for us.
Last stop for the night, the after parties. Lorie and I went to the Dundee Hills party that featured many of my favorite wineries including Winderlea and Alexana. A winery I had not heard of, White Rose Estate, was pouring a magnificent 2009 Pinot Noir and I hope to visit them during my post-conference trip through Willamette.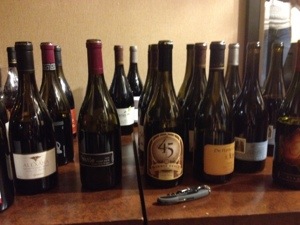 The Wine Bloggers 2012 Conference exceeded all expectations and the conference organizers deserve a huge round of applause. Next year's conference is scheduled for British Columbia and I will be there!
Cheers!