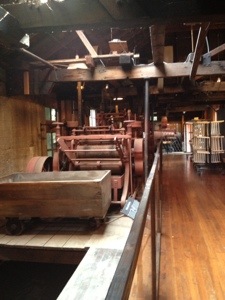 Day Two and we were headed to Salem with our fantastic tour guide, Irene. Our first stop was Willamette Valley Heritage Center which includes the site of  a woolen mill established in the 1889. Peter Booth, the Executive Director, took us on a fascinating tour providing  a good understanding of the history of the mill and how it functioned as well as its importance to Salem.
Moving along (quickly as we had a packed agenda), we were off to Willamette Valley Vineyards.
WVV is one of the larger producers in the Valley, but their wines are superb. We began with a tasting of the 2009 Bernau Block Pinot Noir and then walked down to the area of the vineyard where those grapes were growing. From there we toured the winery, sampling a variety of Pinot Noirs including a barrel sample of the 2011 Tualatin. An incredible lunch followed, featuring loads of local produce and more remarkable WVV wines including the 2010 Pinot Gris and 2011Whole Cluster Pinot Noir.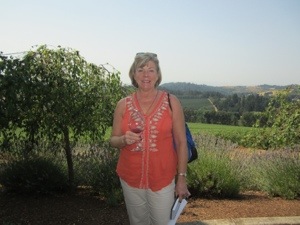 Back on our little bus and off to Piluso Wines.
This was the opposite of WVV – tiny, new, owned and operated by Sandy and Pinkie Piluso. Sandy said that she knew when she was 10 that she wanted to grow grapes and make wine. Her family and friends discouraged her, but she never gave up and purchased the farm in the late 90's. They grow seven grape varieties in their compact vineyard and produce some fantastic wines (Sandy is the wine maker). Of particular note for me were her 2010 Fiore Bianco and the 2008 Pinot Noir.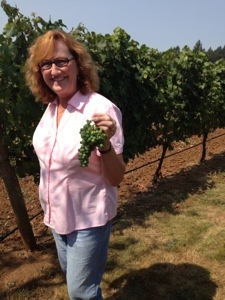 Our last stop of the day was E-Z Orchards.
The owners, John and Kevin Zielinski, have carried on with the family business and grow almost everything you can think of. They also make a fabulous hard cider made by traditional methods. The cider has beautiful bubble structure and tannins that give it a solid mouth feel, but it is also light and refreshing and perfect for the mid-90's temperatures of the day. To top off the afternoon, we were treated to samples of famous E-Z Orchards shortcake – peach, strawberry, or mixed berries. I wonder how many pounds I will be able to gain this week?
Stay tuned……..