Wednesday and day one of the 2012 Wine Bloggers Conference. Several pre-conference excursions were offered and I chose the Salem option. Our first stop was the Evergreen Aviation Museum – they decided (wisely!) that we should see more than wineries!! It is an impressive campus containing an aviation museum, space museum, IMAX theater, and water park. One could easily spend an entire day there. And, yes, they did have a wine tasting for us. The standout for me was the 2008 Evergreen Chardonnay that was bursting with tropical fruit and a good value at $15.00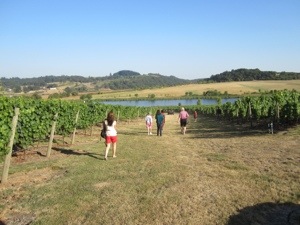 From the museum, we headed south to Johan Vineyards. Johan is making some interesting old world style wines. The owners and wine maker approach their art creatively, experimenting with interesting techniques and blends. I loved their skin macerated 2010 Pinot Gris and their 2007 Nils Reserve Pinot Noir. From Johan, we took a mini wike (wine hike), cut short because of the extreme heat Oregon is experiencing this week.
Left Coast Vineyard hosted us next, providing approximately 10 wines for our tasting pleasure and a delicious cookout that included grilled burgers and brats, beautiful salads, and fresh berries with whipped cream.
There is so much more to say, but I need to head out to our bus for Day Two!
Cheers